02 | 2023
SUPERBOOTH
SUPERBOOTH ist eine Fotokabine, die Maschinenintelligenz nutzt, um klassische Selbstporträts auf eine neue Art und Weise zu interpretieren. Im Gegensatz zu herkömmlichen Fotokabinen können die aufgenommenen Selbstporträts von den Nutzern in Bezug auf Erscheinungsbild, Geschlecht, Alter oder sogar das grundlegende Motiv mühelos angepasst werden. Neben einfachen textbasierten Anweisungen kann auch festgelegt werden, wie kreativ die Maschine bei der Neuinterpretation des Fotos sein soll. Wie diese Ergebnisse jedoch mit dem eigenen Selbstbild in Beziehung stehen und welche Vorurteile das System möglicherweise mitbringt, wird hier auf eine sehr direkte und interaktive Weise erfahrbar gemacht.
"Self portraiture is an act of self-expression, and a photobooth is the ultimate tool for capturing one's identity in a fun and playful way. By combining the two, you get a powerful medium for exploring who you are, and creating joyful memories that celebrate your unique spirit. A photobooth is not just a machine that snaps pictures, it's a space for creative exploration, a mirror for your soul, and a source of endless fun and laughter with friends and family." ( ChatGPT – 15.02.23)
Die SUPERBOOTH ist im wahrsten Sinne des Wortes eine Fotokabine der Superlative. Anders als bei herkömmlichen Fotokabinen werden die geschossenen Selbstporträts mithilfe einer Maschinenintelligenz auf verblüffender Weise modifiziert und erweitert. Neben einfachen textbasierten Anweisungen, kann auch festgelegt werden, wie kreativ die Maschine in der Neuinterpretation des Fotos sein darf. Das eigene Erscheinungsbild, Geschlecht oder Alter oder gar das gesamte Grundmotiv lassen sich damit im Handumdrehen modifizieren. Was diese Repräsentation allerdings mit dem eigenen Selbstbildnis macht oder welche Voreingenommenheiten das System selbst mitbringt, kann jeder Besucher nur selbst erfahren. Durch einfaches Ausprobieren.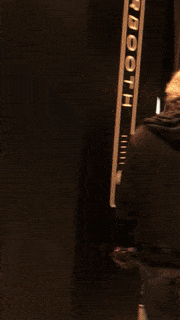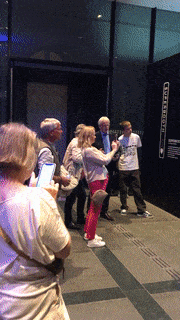 Was hat KI mit mir zu tun?
Schon heute interagieren wir an vielen Stellen mit digitalen Systemen, die Maschinenintelligenz verwenden. Welche Aufgaben diese Maschinenintelligenz hat oder mit welchen Daten diese trainiert wurde, bleibt oft im Verborgenen. In vielen Fällen eine reine Blackbox. Diese Idee greift die SUPERBOOTH äußerlich auf: in Form einer schlanken schwarzen Box, einem Fotoautomaten, der auf Basis von KI aufgebaut ist. Das Besondere an der SUPERBOOTH ist allerdings, dass man diese Blackbox betreten kann und den Output maßgeblich selbst gestalten kann. Die Interaktion mit der bildgebenden KI wird hier zum zentralen Element der Arbeit.
Zahlreiche schräge Accessoires, Studiobeleuchtung, Kamera mit Selbstauslöser und ein Touchscreen zum Prompten bieten nahezu unbegrenzte kreative Entfaltungsmöglichkeiten für Einzel- und Gruppenaufnahmen. Ganz nach dem Motto, wer möchte ich heute sein, wovon fühle ich mich repräsentiert, lässt sich das fotografierte Motiv, nach Geschlecht, Alter, Szenerie manipulieren. Eine Bild zu Bild KI ( Stable Diffusion / A1111 )
Die Voreingenommenheit (Bias) von KI Modellen wird für den Besucher der SUPERBOOTH in sehr direkter Form erfahrbar: Die verwendeten KI-Modelle, die anhand von vielen Mode- und Porträtfotografien trainiert wurde, reflektiert stereotypische Interpretationen von Schönheit in Motiv, Komposition, Farbwahl und Details. Die selbst aufgenommenen Fotos lösen sich in dieser stereotypischen Anordnung auf und hinterlassen die Frage beim Nutzer: Bin ich hier repräsentiert? … und im zweiten Schritt: Wie kann ich gestalterisch auf diese Anordnung einwirken und aus der Blackbox ein eigenes Werkzeug kreieren?
SUPERBOOTH @ Max Ernst Museum / Surreal Futures
Einige ausgewaehlte Renderings aus der SUPERBOOTH zur Vernissage der Surreal Futures Show im Max Ernst Museum Bruehl.
Zusammen mit ueber 30 zeitgnoessischen internationalen Kuenstlern werden gemeinsam mit dem kuratorischen Team um Patrick Bluemel, zeitgenoessische kuenstlerische Positionen gezeigt, die ausgehendend von den Ideen des Surrealismus und den Arbeiten von Max Ernst, aufregende, skurrile und kritische Perspektiven aufzeigen. Die Medienkunst Schau widerspiegelt dabei Fragen nach Nachhaltigkeit, Identitaet und Digitalitaet. Link zum Ausstellungsprogramm SURREAL FUTURES
Erste Probesession in einer eigens entwickelten Kabine.

SUPERBOOTH @ Lange Nacht der Wissenschaften Halle
SUPERBOOTH @BURG / Symposium "In a blink of an AI." > LINK

SUPERBOOTH is literally a photobooth art installation that is powered by AI image-to-image models, which transform the photos taken by the booth in unique and unexpected ways. As participants enter the booth, they are invited to strike a pose and take a photo, which is then processed by the AI algorithms. These algorithms are trained to manipulate and remix the images in a way that reflects their own inherent biases, which may lead to surprising and thought-provoking results. Each photo generated by the booth is a one-of-a-kind creation, shaped by the interplay between the participant's identity and the AI's unique perspective. By creating a dynamic and interactive experience, this art installation challenges viewers to reflect on the ways in which AI can shape our perceptions of identity and reality, and encourages us to engage more critically with the role of technology in our lives. ( ChatGPT – 15.02.23)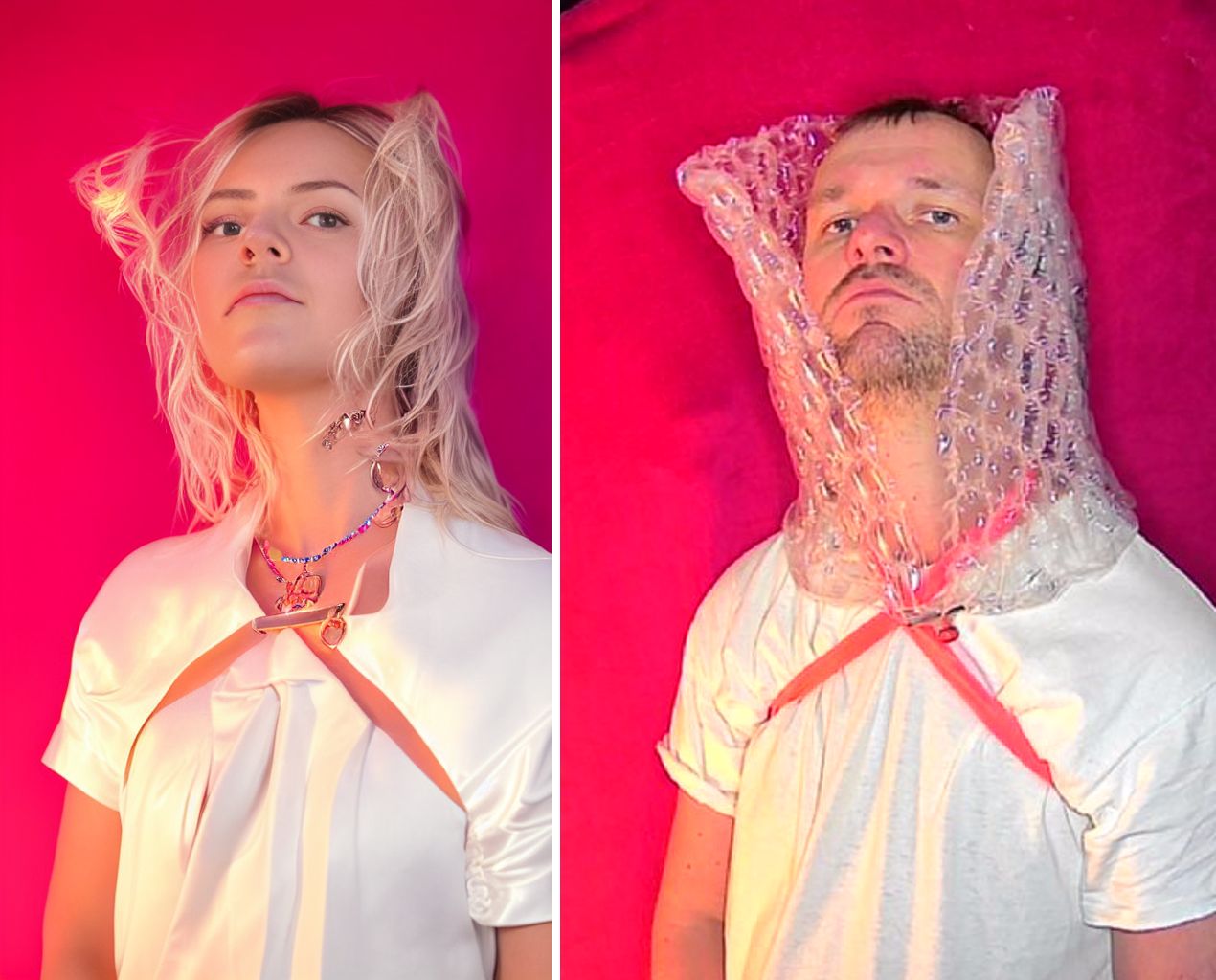 Tristan Schulze asks: What can an individual learn from a beautified photobooth portrait made by an AI?
ChatGPT answers: An individual can learn a number of things from a beautified photobooth portrait made by an AI. Firstly, they can gain insights into the ways in which AI image-to-image models manipulate and remix images to create unique representations of reality. By observing how the AI has "beautified" their portrait, the individual can gain a better understanding of the biases and assumptions that are built into the model's algorithms.
Additionally, the individual may gain insights into their own sense of identity and self-presentation. By seeing a representation of themselves that has been transformed by an AI algorithm, they may be prompted to reflect on their own self-image and the ways in which they present themselves to others. They may also gain a new perspective on beauty standards and how they are constructed and reinforced through technology.
Overall, a beautified photobooth portrait made by an AI can serve as a thought-provoking and engaging experience that encourages individuals to question their assumptions and biases, while also providing a unique and memorable keepsake of their interaction with the technology. ( ChatGPT – 15.02.23)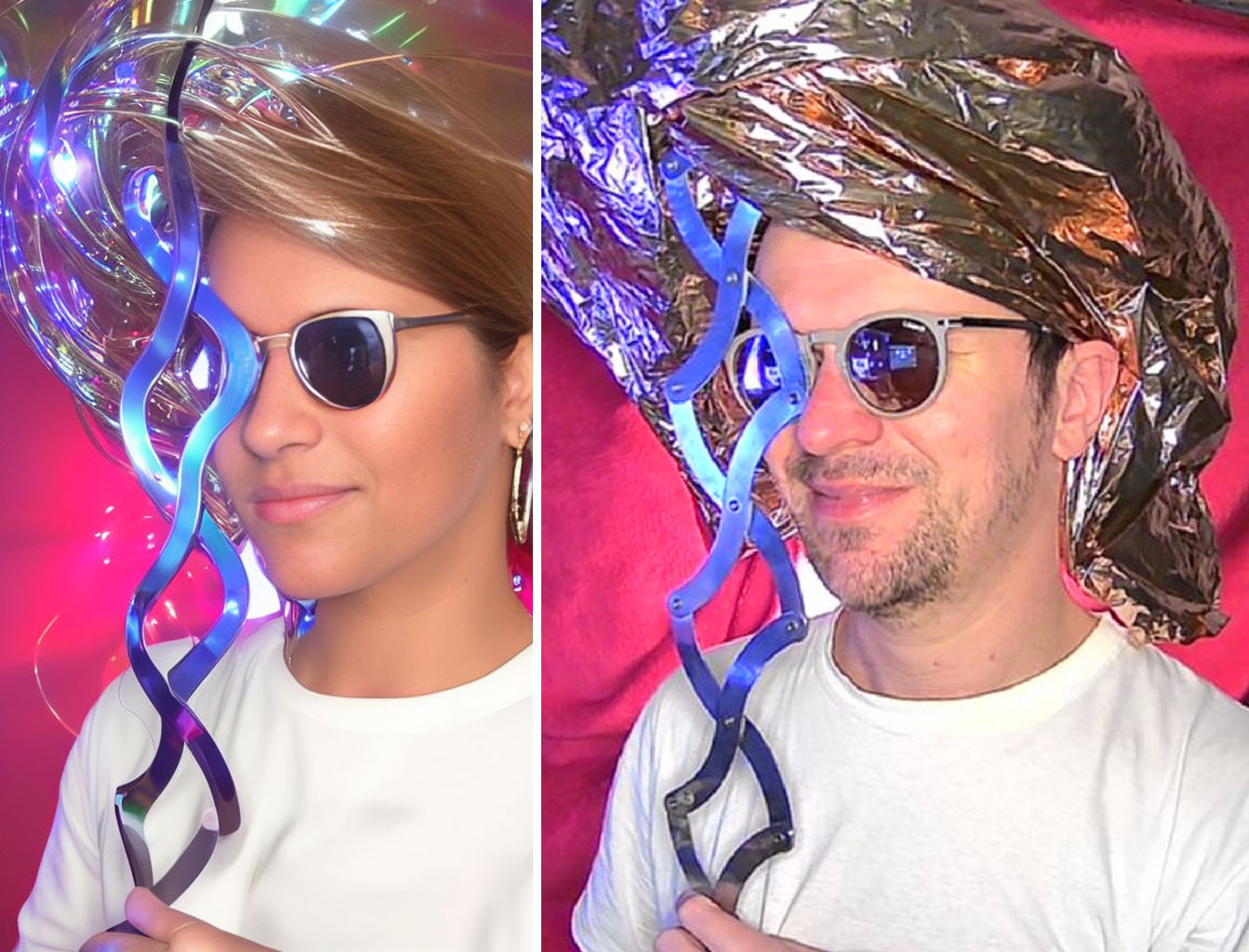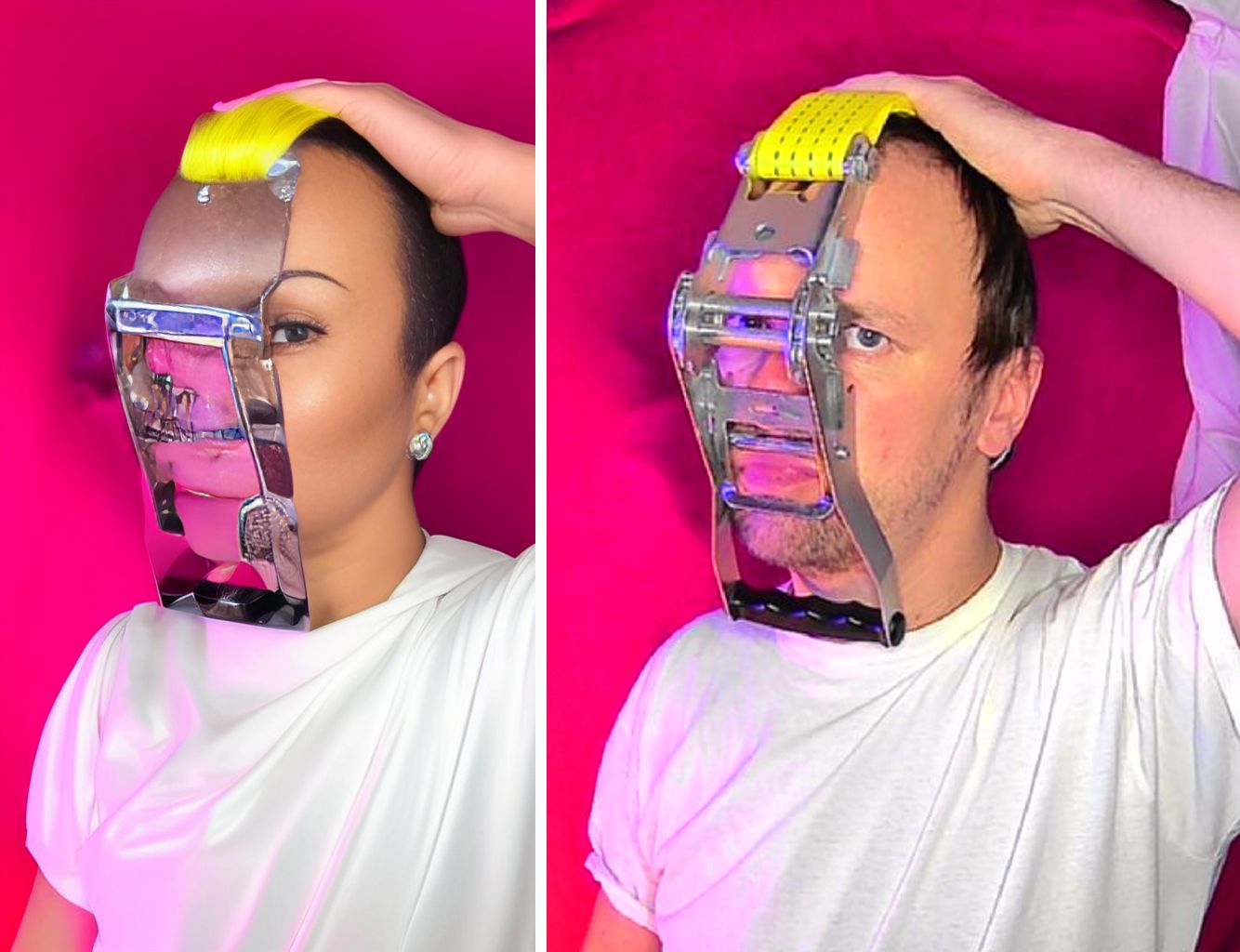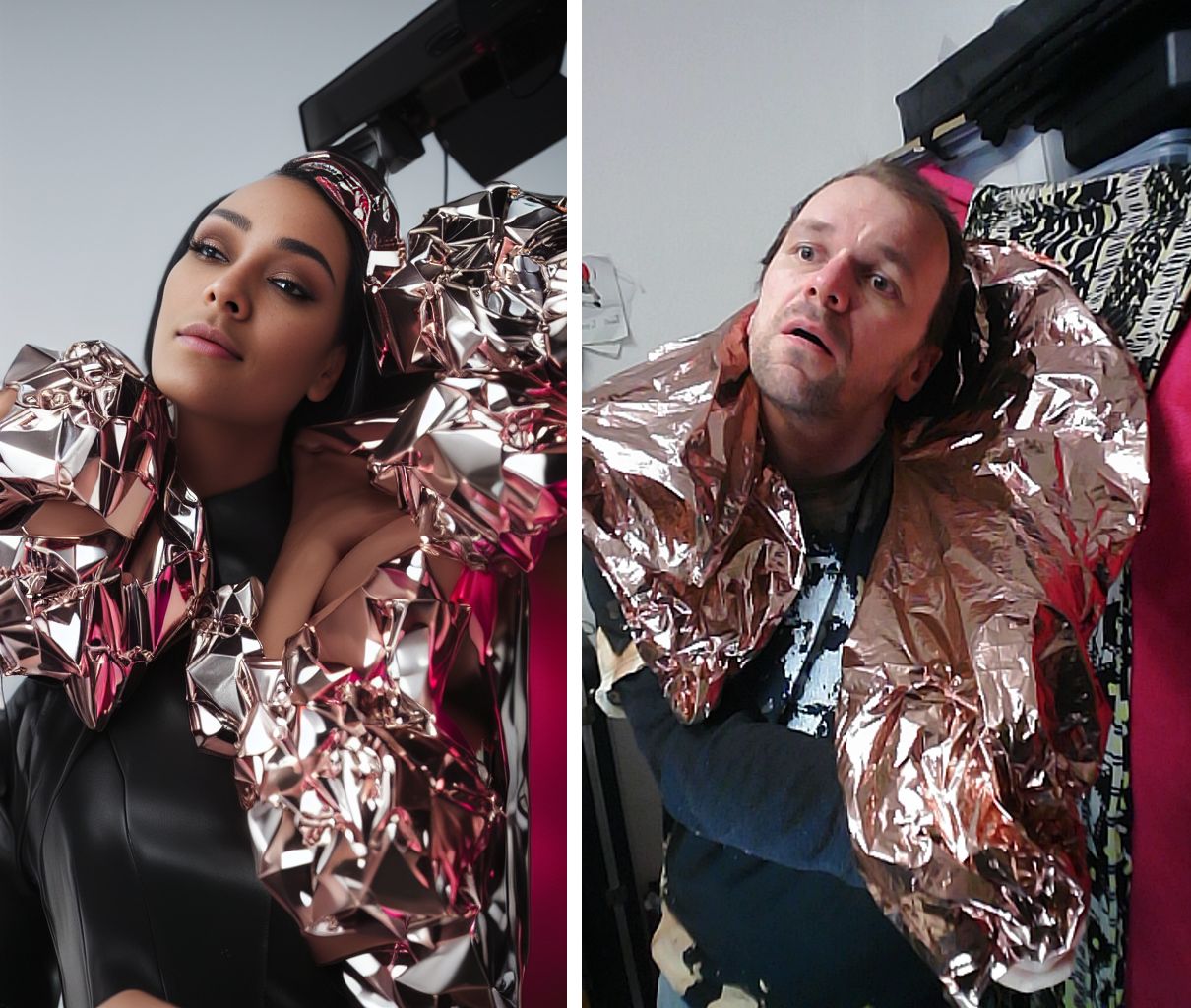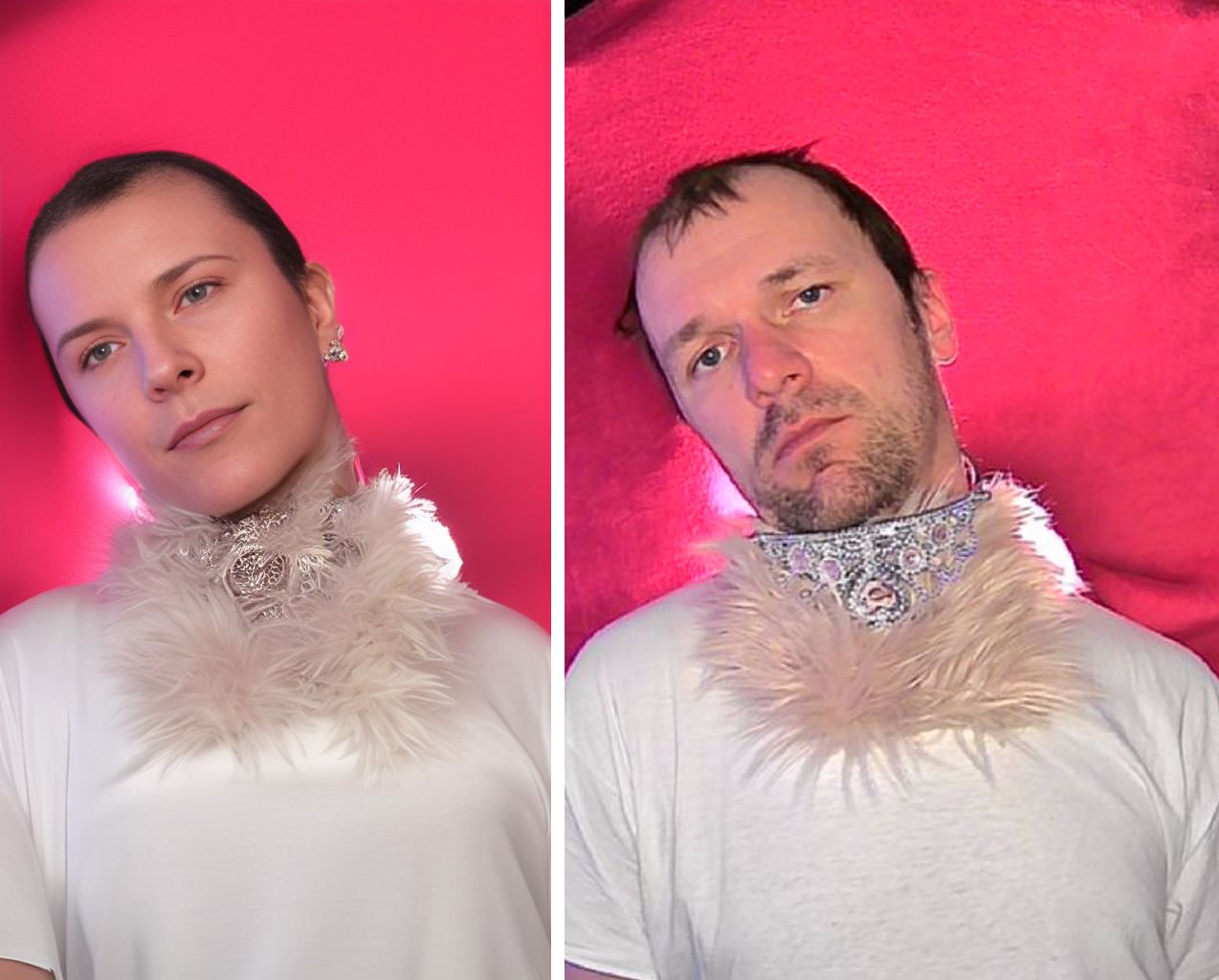 While AI can offer valuable tools and insights for social media and personal identity, it is important to recognize that these technologies are not neutral or objective. As AI algorithms become increasingly integrated into social media platforms, they can shape how individuals present themselves and interact with others in ways that reflect the biases and assumptions of the technology and its developers. This can have profound implications for personal identity, potentially reinforcing existing power dynamics, cultural norms, and social inequalities. It is crucial for us to critically examine the role of AI in shaping personal identity and social media, and to work towards creating more transparent and equitable AI systems that empower individuals to express their identities on their own terms. ( ChatGPT – 15.02.23)
optimal stationary setup
The booth can be setup in a variety of ways and efforts. Alltough, it is important to offer a visible closed, kind of "private", space for the boothing people. This can be done by curtain or existing walls. As additional props, very diverse material and object can be used to manipulate the apperance in front of the camera.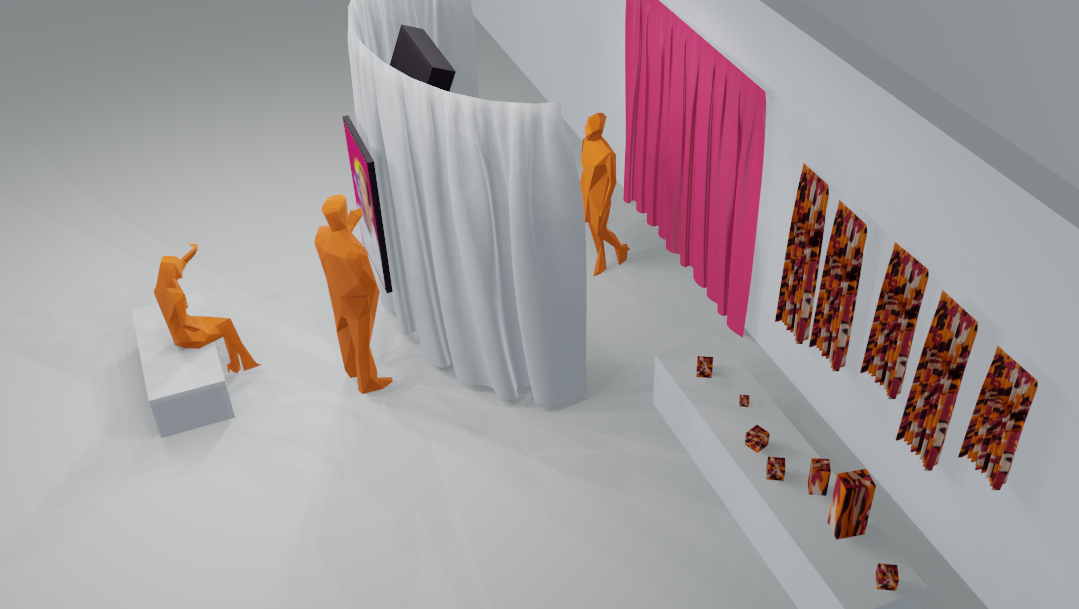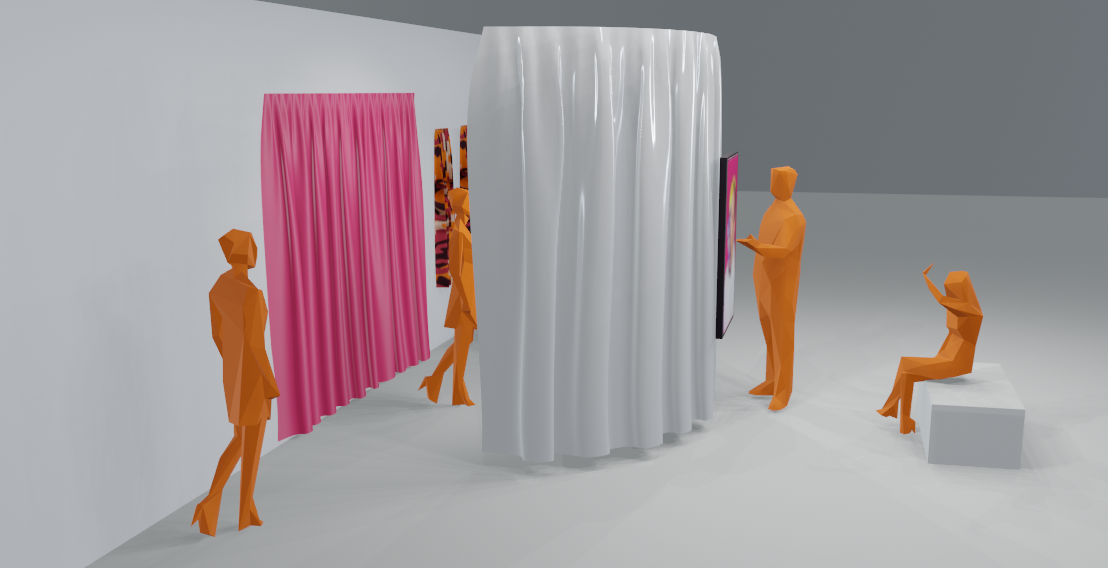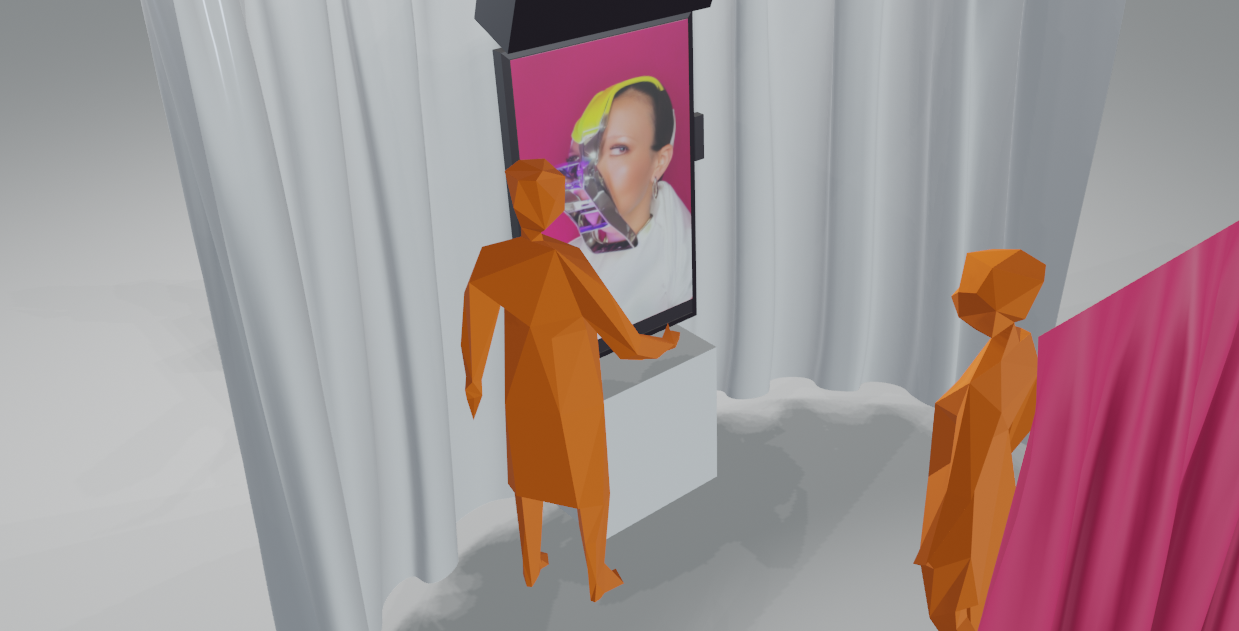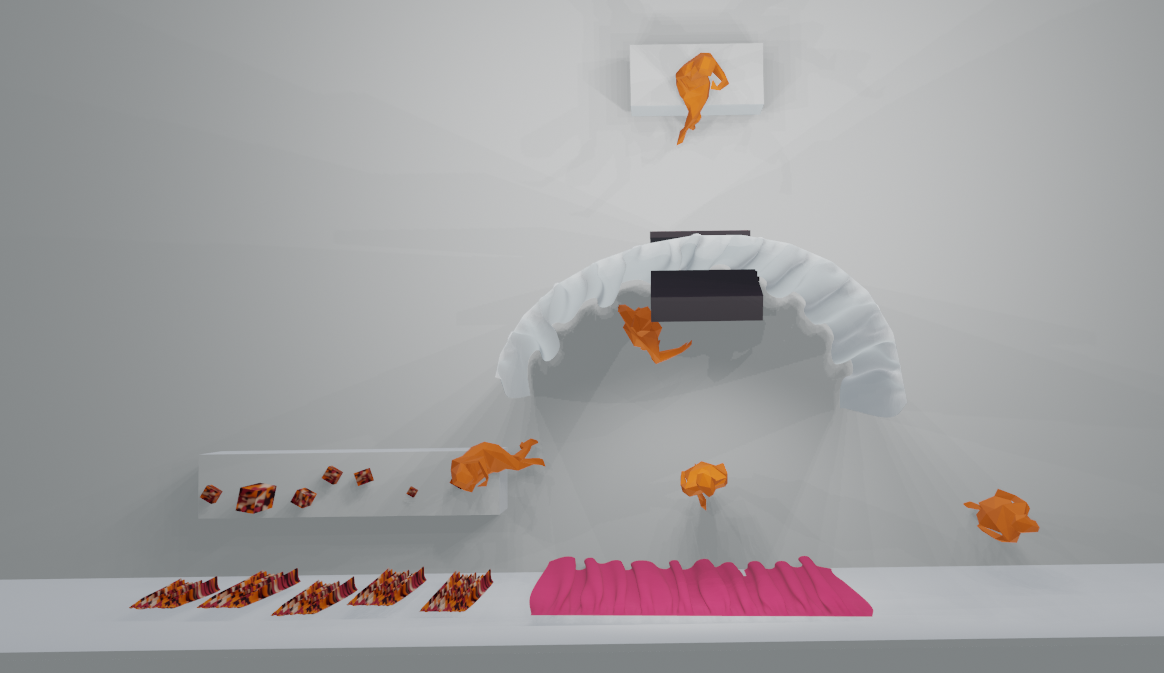 OPTIMAL TECH SETUP
> operating local machine >= RTX 3060 GPU / with Stable Diffusion installed
> high quality webcam
> screen for selfie recording & photo interface
> touchscreen for outer booth interaction
> softbox lightning
> wired or wireless access to internet for remote service
> stands or montage elements, cables
minimalistic mobile setup
SUPERBOOTH can also be used with the help of mobile devices and a connected server machine hosting Stable Diffusion API. Therefore a minimalistic light setup and a stand for a tablet in front of a monochrome surface is needed for some proper results.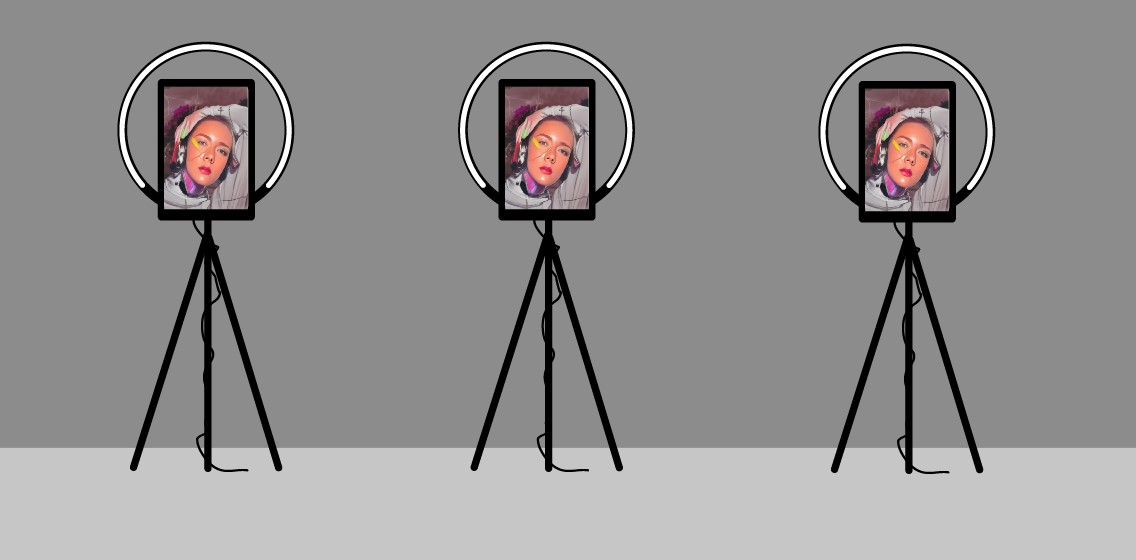 MINIMAL MOBILE TECH SETUP
> operating local machine >= RTX 3060 GPU / with Stable Diffusion installed
> local WLAN Router for internal communication only
> tablet for big screened smartphone with a proper face fronting camera
> softbox lightning or diffuse LED ring light
> stands or montage elements, cables
making of
internal prompt setup for the booth
((( surreal female as jellyfish ))) beautiful close up portrait photo (high detailed skin:1.2) in ( underwater deep sea environment:1.2 ), 8k uhd, dslr, dynamic expressive lighting, high quality, film grain, Fujifilm XT3 ,realistic, detailed, sharpened sharp, professional photography, studio light, iriscendent colorful light, shiny lights , hyperrealistic photo realistic, sharpen detailed , fine detail, realistic proportions, professional photography, (( focus and detail ))
Negative prompt: (deformed iris, deformed pupils:1.7), (semi-realistic, cgi, 3d, render, sketch, cartoon, drawing, anime:1.3), asian, sexy, text, close up, cropped, out of frame, worst quality, low quality, jpeg artifacts, ( ugly, duplicate, morbid, mutilated, extra fingers, mutated hands, poorly drawn hands, poorly drawn face, mutation, deformed, blurry, dehydrated, bad anatomy, bad proportions, extra limbs, cloned face, disfigured, gross proportions, malformed limbs, missing arms, missing legs, extra arms, extra legs, fused fingers, too many fingers, long neck:1.1)(blur blurry:2.0)
Steps: 33, Sampler: Euler a, CFG scale: 7.5, Seed: 1736395914, Size: 552×992, Model hash: 7a4dbba12f, Denoising strength: 0.39, ControlNet 0: "Module: canny, Model: control_sd15_canny [fef5e48e], Weight: 0.4, Resize Mode: Crop and Resize, Low Vram: False, Processor Res: 512, Threshold A: 100, Threshold B: 200, Guidance Start: 0, Guidance End: 0.45, Pixel Perfect: False, Control Mode: Balanced", Noise multiplier: 1.05, Version: v1.6.0
using CANNYNET to guide the img2img process
ARTIST SELECTION / BEST OF BOOTH SHOTS
ARTIST SELECTION : 23. – 26. August @ SUPERBOOTH / Max Ernst Museum Brühl

---
ARTIST SELECTION : 27. – 31. August @ SUPERBOOTH / Max Ernst Museum Brühl

---
ARTIST SELECTION : 1. – 9. September @ SUPERBOOTH / Max Ernst Museum Brühl

---
ARTIST SELECTION : 10. – 20. September @ SUPERBOOTH / Max Ernst Museum Brühl

---
zuletzt geändert: 2023-09