RE:SKIN
| 2023-07
RE:SKIN ist die logische Fortführung der Arbeit SKIN II&III. Durch die Integration einer weiteren bildmanipulierenden Ebene können aus den synthetisch/digitalen Outfits des interaktiven Prototypen SKIN vollkommen neue Interpretationen entstehen.
Interpolation
Anhand bildgebender Maschinenintelligenz, die aus Standbildern kurze Videosequenzen erzeugen kann, ( Beispiel hier #pikalabs oder #runway2 ) – ergibt sich die Möglichkeit durchaus schlüssiges "Verhalten" von Textil auch im Nachgang zu simulieren. Perspektivisch wären hier optimierte KI Modelle interessant, die diese Interpolation in Echtzeit, auf das spezifische Outfit ausgerichtet rendern könnten.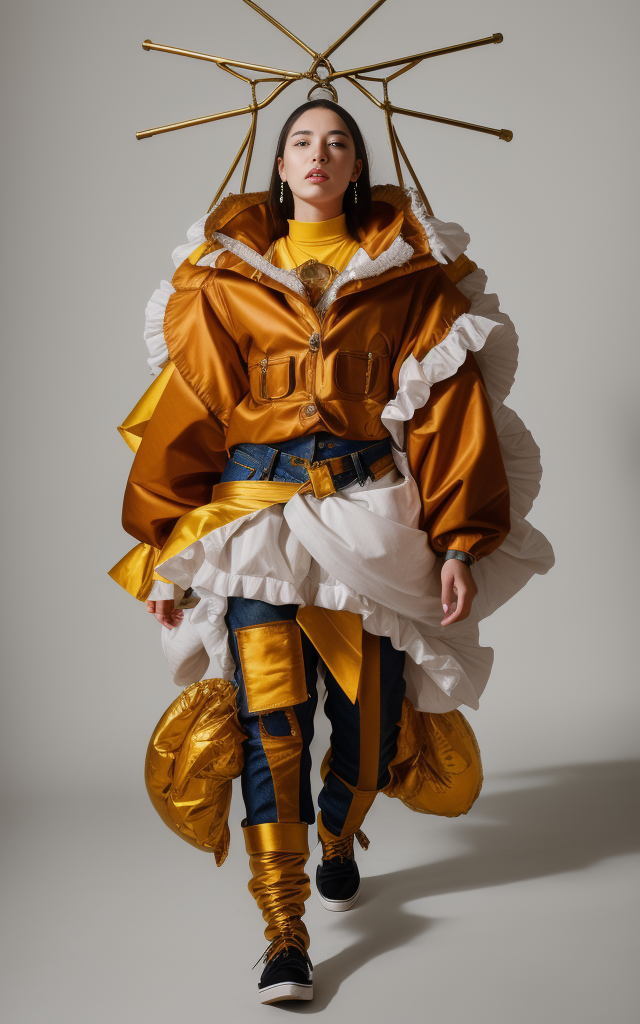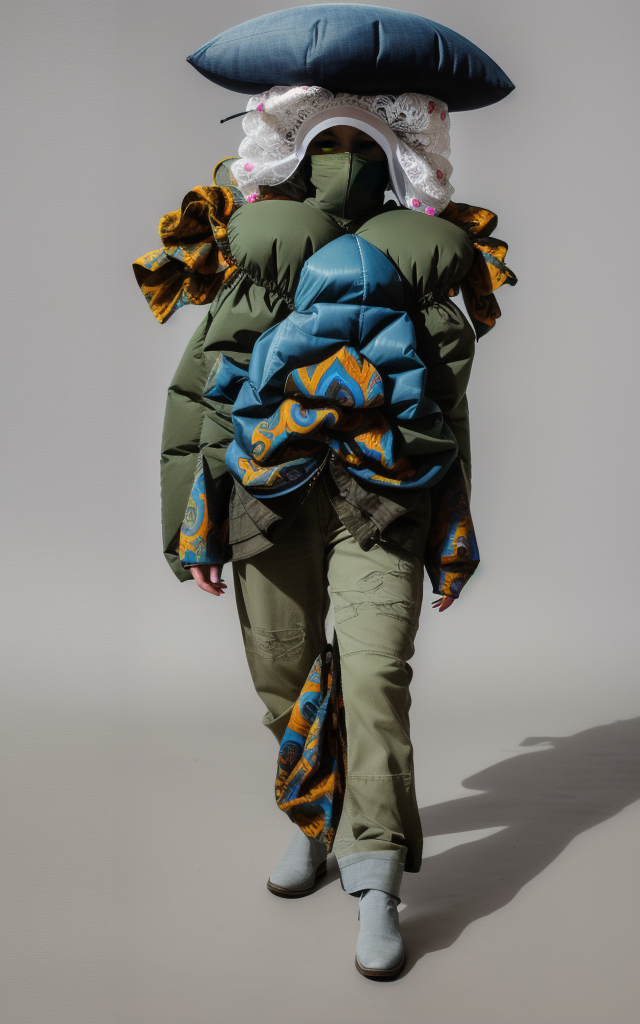 Von 3D Primitive zu Bio Material zu Porzellan
Eine erneute Überarbeitung ausgehend von ControlNet/Depth zeigt die Möglichkeit, das selbst von KI generierten Inhalten stets eine Umgestaltung stattfinden kann.
(((white glossy reflective curvy smooth porcelain sculpture))) with shapes inspired from bio material like fungi overgrown tropical tree roots creepers, white studio background high key rim lights, engraved traditional patterns on surface, white plain background
KI basierte Neuinterpretation
Ausgehend von 3D basierten interaktiven Outfits, die aus einfachen Primitiven am Körper zusammengestellt sind, lassen sich durch gezieltes Prompten ( img2img ) unzählige Varianten in Material, Anmutung udn Stil erzeugen.

((( single androgyn model, suit made from bio nature material, white face mask, voronoi pattern and lamellae patterns inspired , moss applications, overgrown tentacles, wild and overgrown, integrated leafes as surface weaving , dirty wet and and old, flower and plant seams )))
((( single androgyn model, suit made from collage of old destroyed folded jeans cloth recycled and reused, safety pins, sews and ladders, loose strings, old dirty cloth scraps )))
((( single androgyn model, futuristic realistic smooth curvy work suit with white face shield made from inflated glossy illuminated parachute cloth, iridescent translucent white and blue bioplastics, lamellae forms and voronoi pattern, electronics pipes and systems )))
Konsistenz
Eine plausible Kontinuität und Konsistenz in der Darstellung eines identischen Outfits in unterschiedlichen Posen oder Ansichten ist im Moment nur in Ansätzen möglich. Mit kommenden KI Systemen für Animation sollte sich diese Problematik zunehmend auflösen.

Durch die Nutzung recycelter Materialien als grundlegende Basis aller generierter Outfits haucht RE:SKIN alten Textilien, also Rohstoffen, neues Leben ein, reduziert die Umweltbelastung und trägt zu einer stärker kreislauforientierten Wirtschaft bei. Jedes kreierte Outfit wird zu einem Zeugnis der Schönheit, die durch bewusste Entscheidungen und verantwortungsvolles Handeln entstehen kann.
((( androgyn model upcycling fashion outfit, recycled cloth, jeans, hentai suit, traditional patterns, cord, rough, sewed, destroyed, diy, )))

INFLATED ist eine Reieh, die von der Anmut und Opulenz der Renaissance inspiriert ist. Jedes Outfit bildet eine hypothetische Arbeitskleidung der Zukunft ab und ist raffiniert aus aufgeblasenen, lebenslangen Materialien gefertigt, bei denen Luft zum isolierenden, leichten Medium wird um Wärme und Tragbarkeit zu vereinen.
((( androgyn model futuristic infladed working suit outfit, parachute, lace, hentai suit, traditional patterns, cord, rough )))