2022-02
TAPESTRY
Die "Tapestry" Reihe umfasst drei gestrickte Doppelbettjaquard Wandbehänge. Jede Arbeit basiert auf einer künstlichen Intelligenz, die anhand traditioneller Web- und Knüpfmuster trainiert und zu einer eigenständigen Interpetation dieser Vorlagen programmiert wurde.
————————————-
The Tapestry series includes three knitted double jacquard wall hangings. Each work is based on an artificial intelligence, which is trained using traditional weaving and knitting patterns and programmed to independently interpret these templates.
Der Trainingsprozess
Previously a dataset consisting of photos of traditional tapestry and rugs needed to be run through a training setup to create a working GAN network. This generative adversarial network then drops out infinite variations of structure and color – herefore visualized with a exemplary shader setup.
With proper training through selection of favorite outcomes – the fuzzy results where then converted with another algorithmic setup based on cellular automata. Those CA algorithms offer a proper binary output, that can be knitted or weave much more easier than the direct AI- generated output.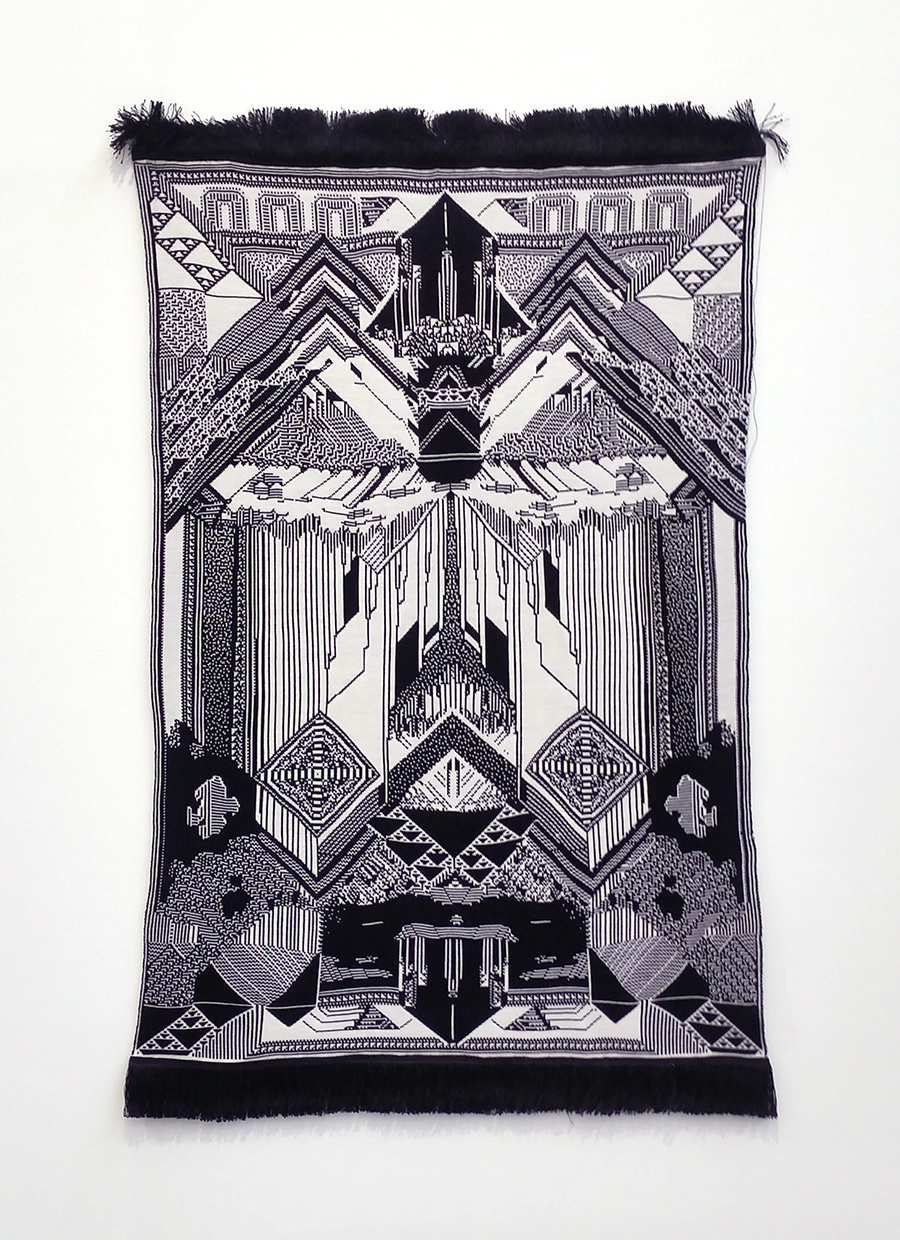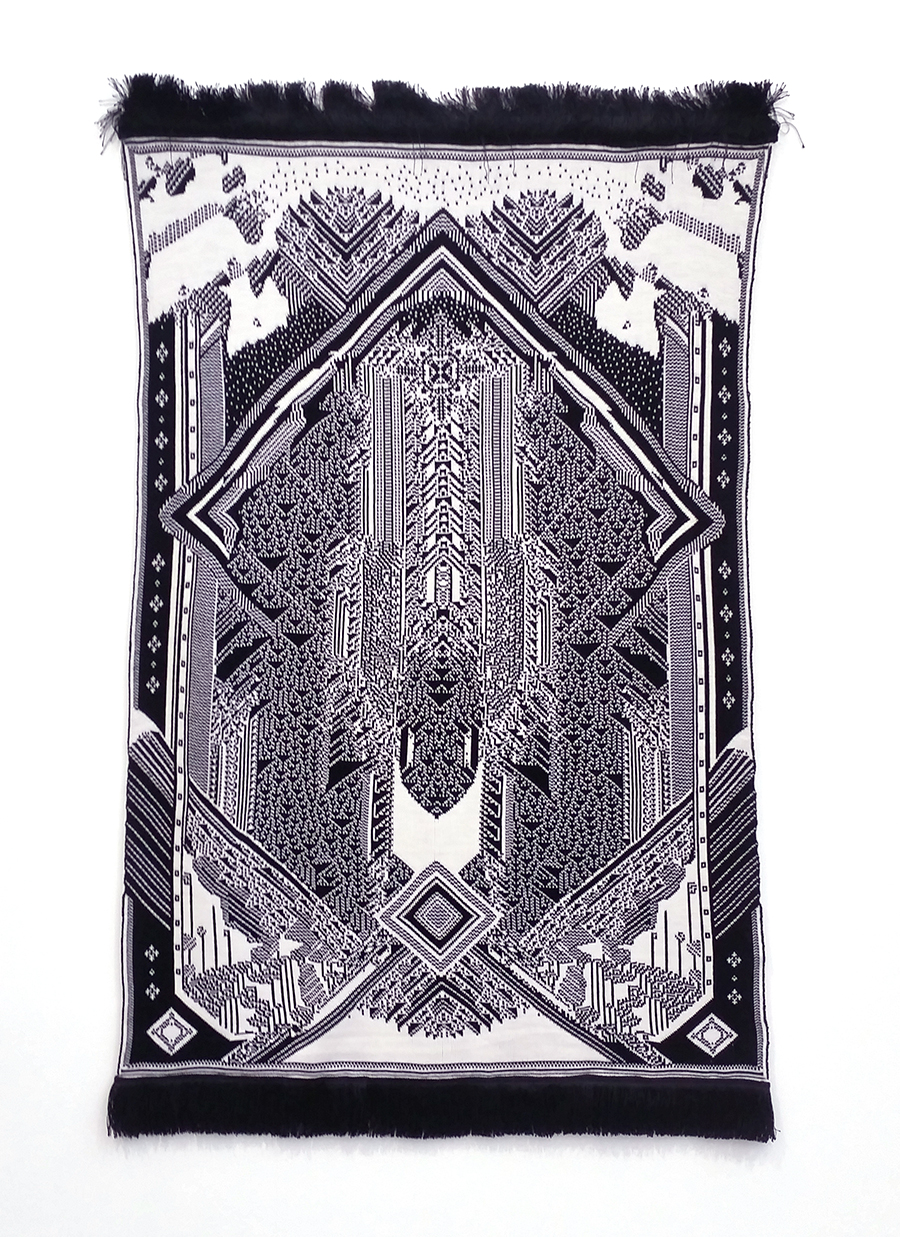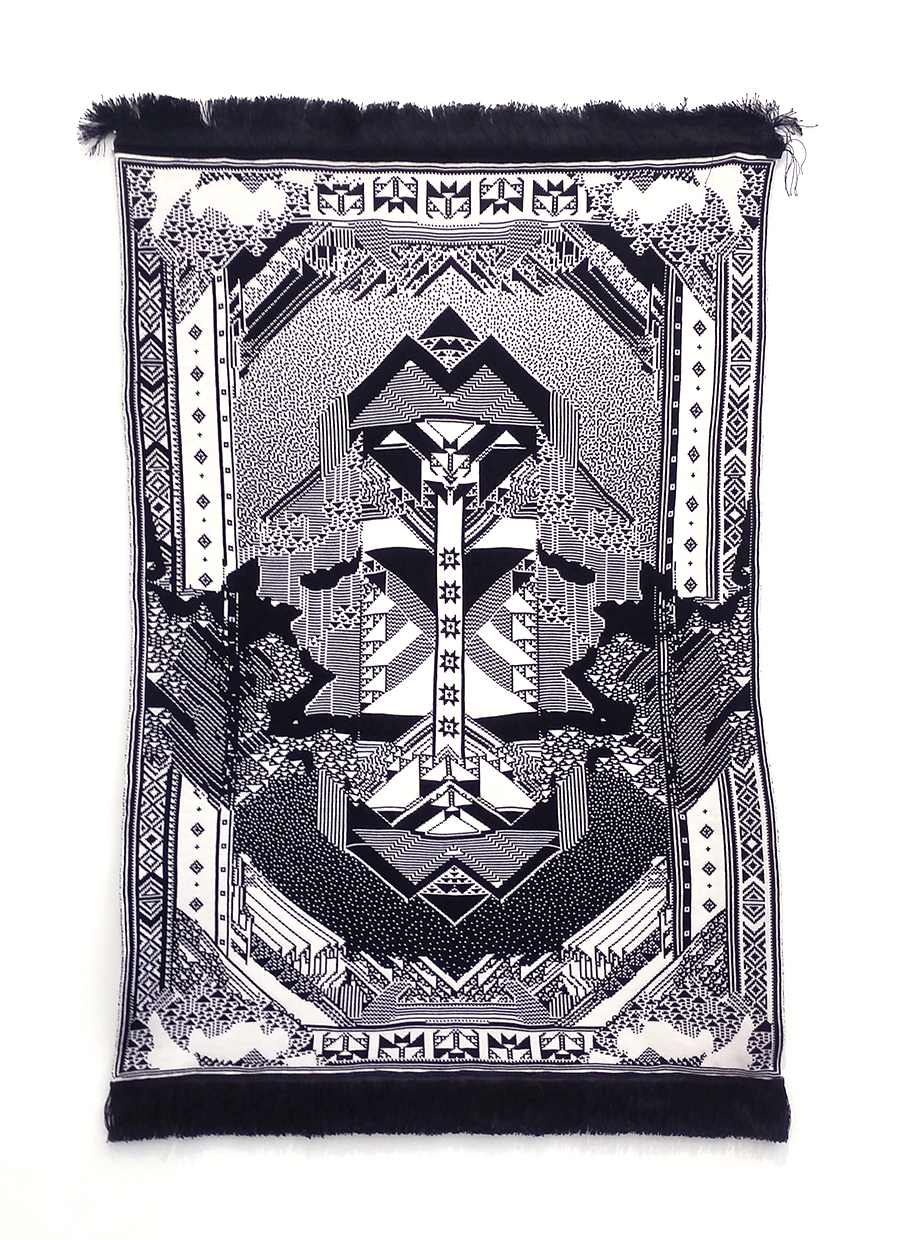 ————————————-
Entstehung
Die Grundlage der Serie ist eine künstliche Intelligenz, die durch Abbildungen von Teppichen verschiedener Herkunft und Alter trainiert wurde (~300 aus Persien, China, Europa, Indien) und damit in der Lage ist, eigene Entwürfe aus dieser "Erfahrung" zu generieren. Mit welcher Auswahl an Vorlagen also die KI trainiert wurde ist ausschlaggebend wie sich der Output gestaltet.
Web- und Strickmuster erfordern – physikalisch bedingt – spezifische Regelwerke um die Flexibilität und Stabilität eines Textils gewährleisten zu können. Die unverarbeiteten Vorlagen der KI werfen in ihrem initialen Zustand stets Fehler auf und müssen daher für das textile Medium übersetzt werden.
Die Musterentwicklung durch zelluläre Automaten* offenbart sich im Zuge der Entwicklung von generativen Web- und Strickmustern als sehr hilfreich um etwa zu große Flottung oder Ungleichgewichte im Textil zu vermeiden. Die finalen Textilentwürfe basieren daher auf mehrfach geschichteten ein- und zweidimensionalen zellulären Automaten, die von der KI dirigiert werden, wie Pinsel auf einer Leinwand, um zum ausführbaren Muster zu gelangen.
Zelluläre Automaten zur Musterentwicklung
Ein zellulärer Automat ist eine sehr einfache mathematische Form der Simulation von künstlichem Leben – abstammend von Automaten-Theorie von Stanisław Marcin Ulam von 1940 und besser bekannt unter Conway's Game of Life. Es gibt insgesamt 256 elementare zelluläre Automaten (2hoch8) die sich in klassifizieren lassen in homogen, repetitiv, chaotisch und komplex.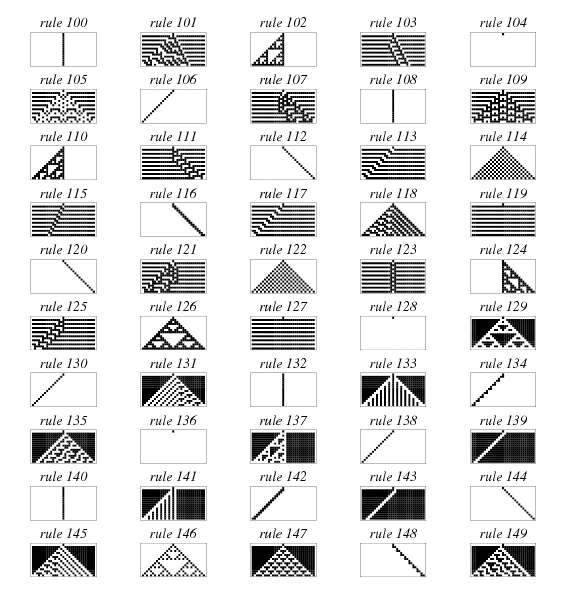 Anstelle einer direkten Übersetzung der graphischen Vorlage wählt die KI nun einen zellulären Automaten um ein Muster so nah wie möglich am Vorbild "nachzuzeichnen". Daraus entsteht eine visuell charakteristische und zugleich ausführbare Vorlage für Web oder Strick.
Web- und Strickproben
KI & Zelluläre Automaten – Skizzen