2022-01
SKIN
*SKIN 3.0 is currently in development for the next show. This post will document some interesting steps of this journey.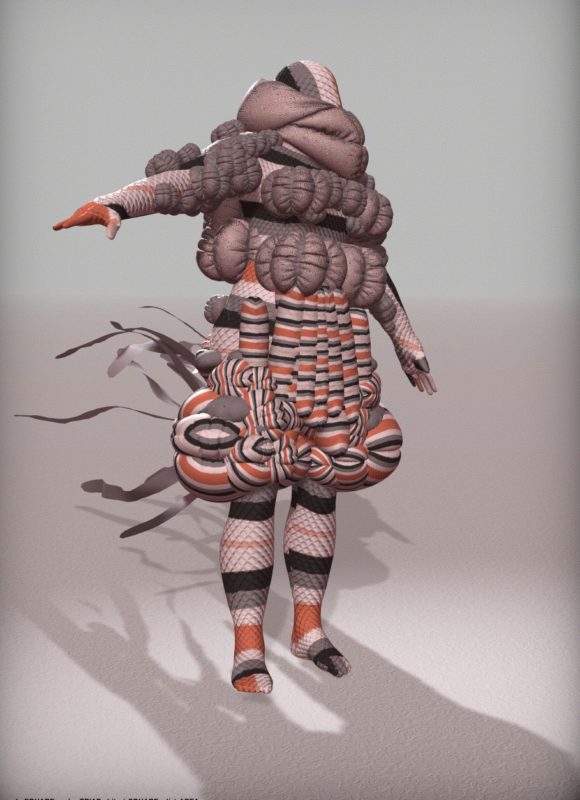 COCCOON
the coccon surrounds you – bio membrance, protection, rebirth, einpuppen, metamorphosis
AR and Fashion
Augmented Reality is on the forefront of technologies, that will have
an influence on our life of tomorrow in the form ofglasses and smartphone
devices. We are already able to use this technology to project digital
clothing on ourselves and other people around us. As the digital world,
digital fashion will have an effect on our culture.
SKIN Version II
SKIN II is capable to generate digital outfits in realtime to augment
them on the users body. The user can move an observe the digital cloth
like in a mirror on the own body. The outfits are created by complex
algorithms, that follow design guidelines that we know from fashion
collection. The user can infinitely iterate and individual outfit, based on basic limb measurements.
Sustainability and Digital Fashion
The fashion industry is in a crisis of sustainablility and problematic
work labor due the market driven fast fashion cycles. Digital fashion
might be one part of the puzzle that might bring a solution to this crisis
in combining generative design & machine learning together with local
and sustainable production.
Redesign with existing cloths
Therefore the outfits generated with SKIN 2.0 are based on modified
clothing that might already exist, which are out of size, out of fashion or
damaged in a particular way. The SKIN algorithms will take these
constraints as a base to generate a custom sized outfit based on upcycled
materials and fashion design guidelines. The user can iterate through infite variations of material
combinations or designs to find an favorite variation. As the outfit is
entirely digital, the complete cutting and sewing guideline can be done
in local or machine labor in a very short time with harvested material,
that is locally in stock.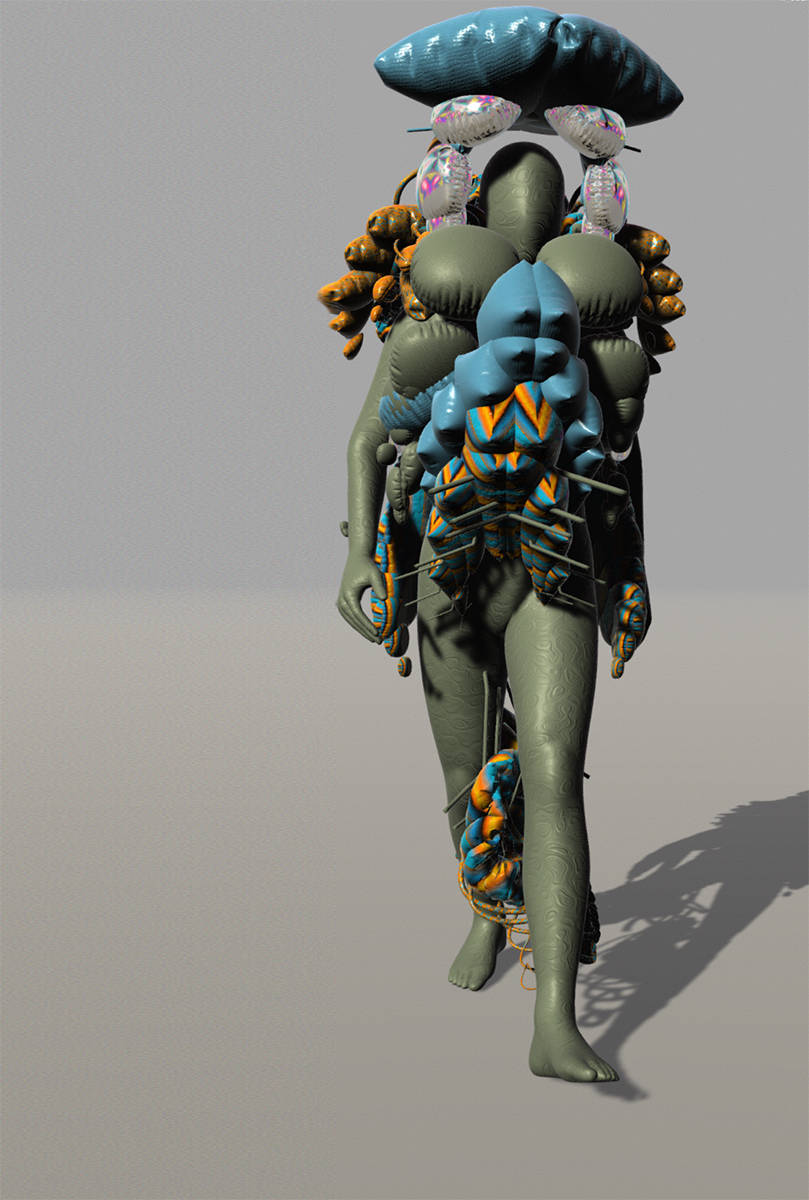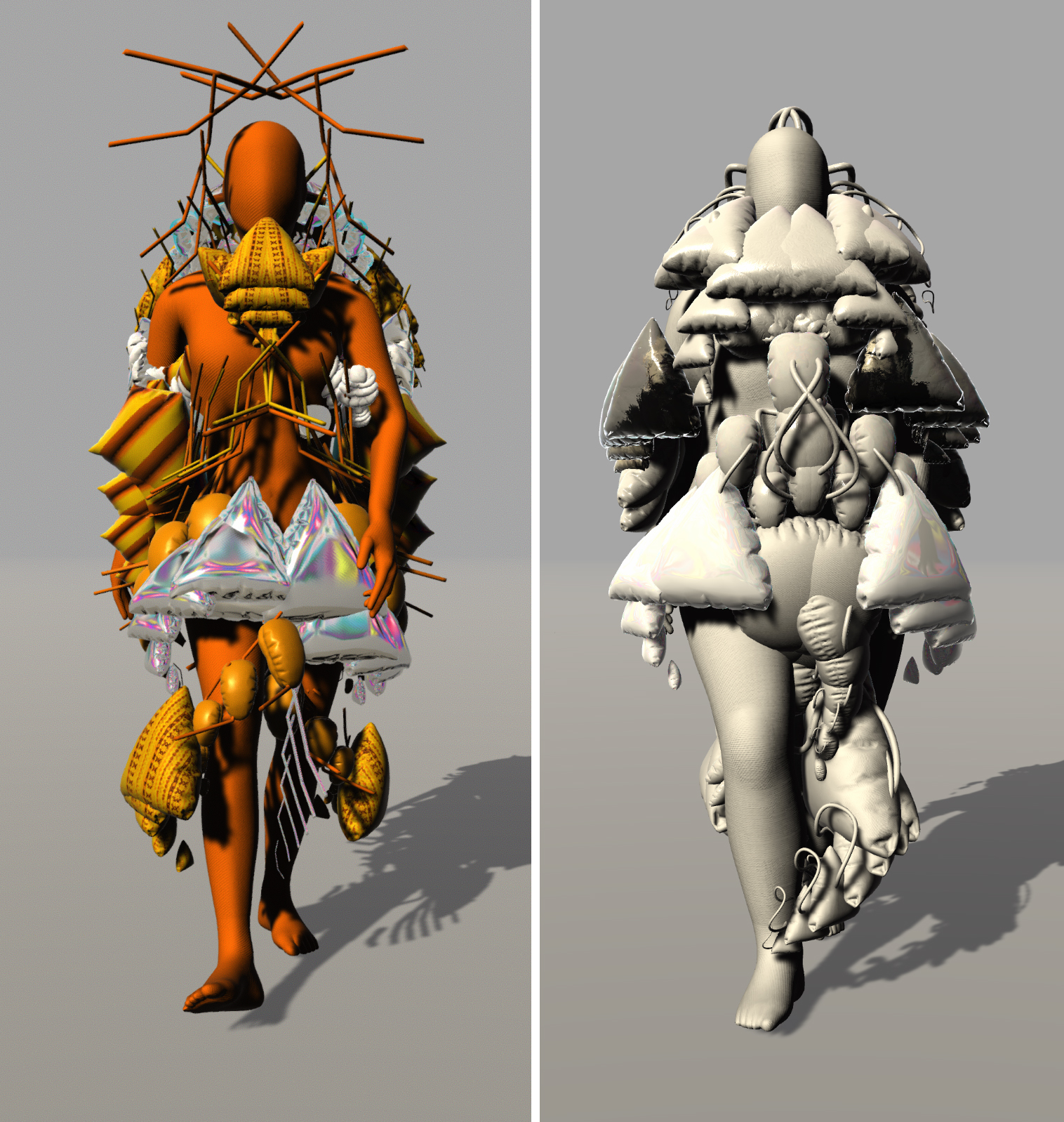 SKIN | SKETCH – triangle shaped outfits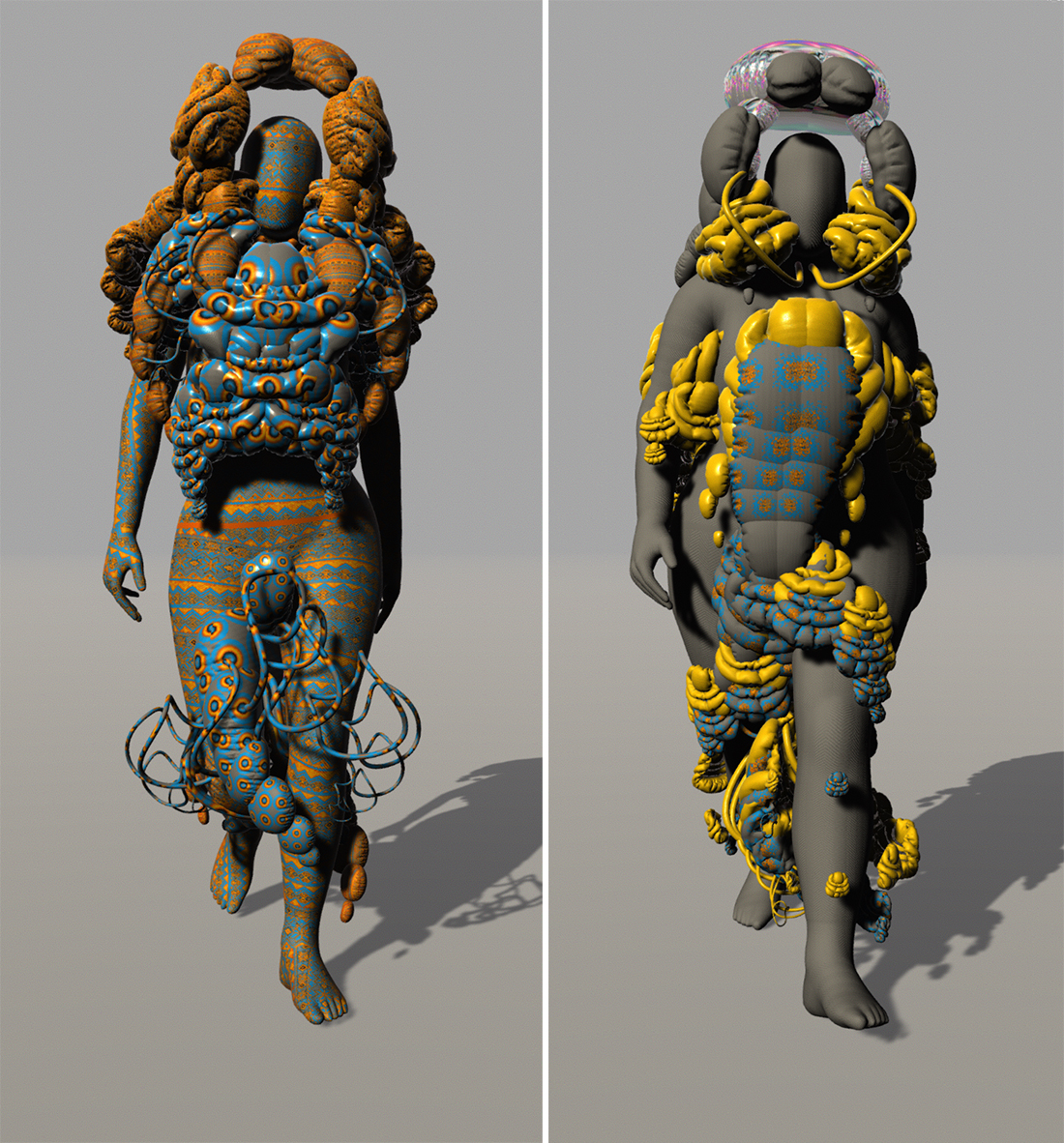 SKIN | SKETCH – oscillating outfits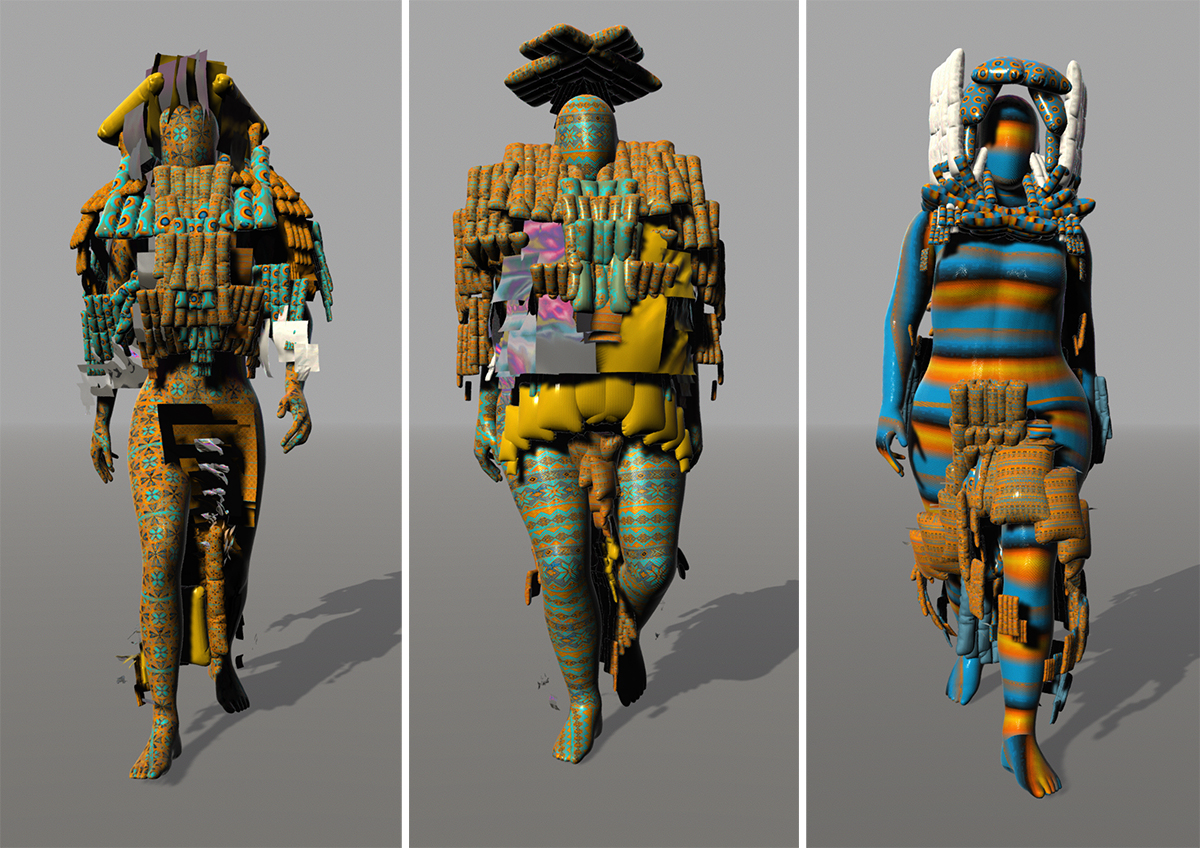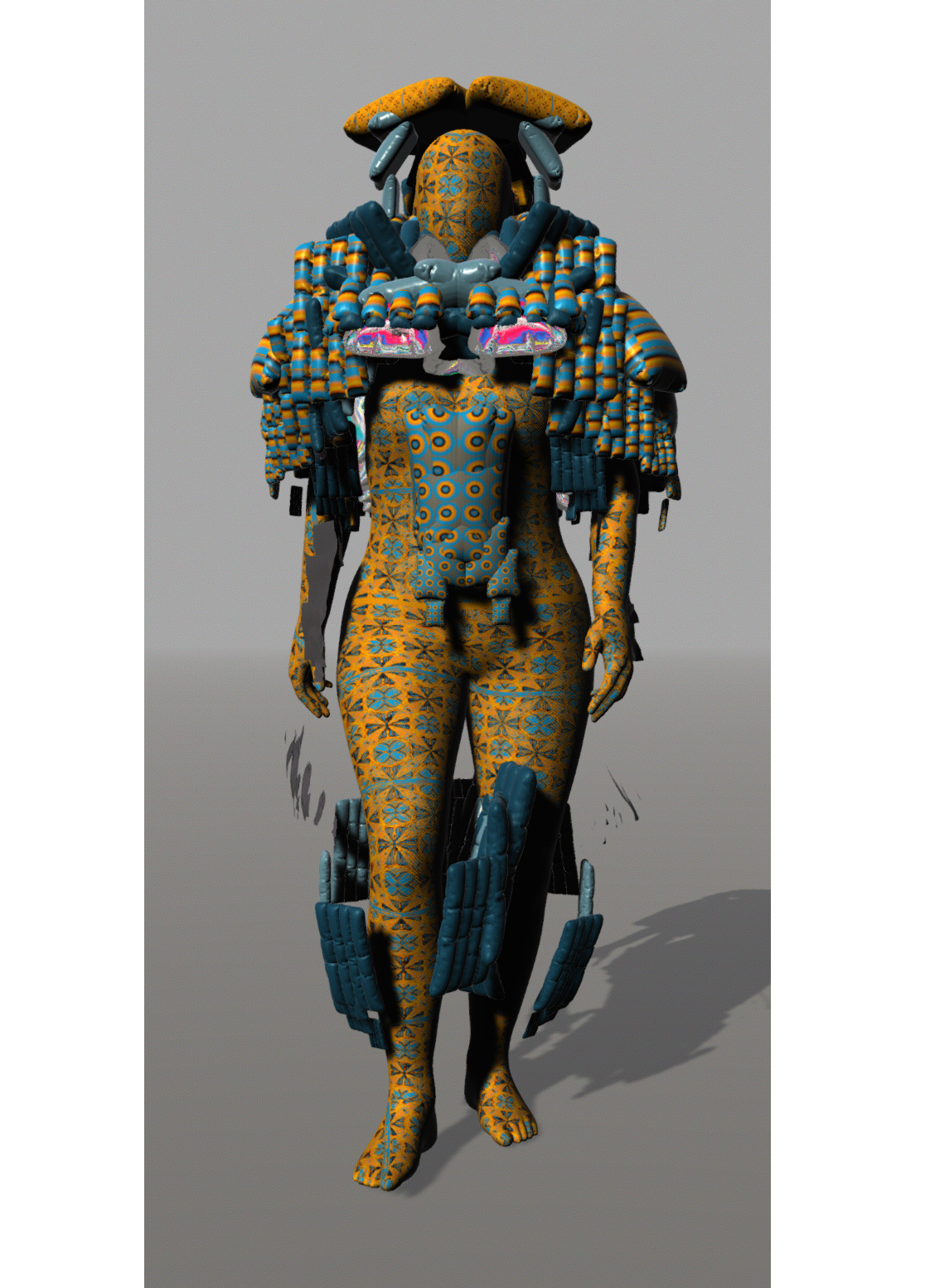 SKIN| SKETCH – square outfits
SKIN 1.0 is an augmented reality installation based on a depth camera system and three projections. The projections show digital outfits generated in real time, which can be controlled by the user through the camera system. Based on the biometrics of the user, a matrix of algorithms creates a unique, non-repeatable appearance for the moment.
Through their own interaction with the camera system, the user slips into digital bodies and outfits that deviate from the normative standards of body and outfit.
The diversity of the human body, but also gender-specific attributions of colors or shapes, can be experienced in a playful way and thus renegotiated for the user and his viewer.
---
SKIN ist eine Augmented Reality-Installation, die auf einem Tiefenkamerasystem und drei Projektionen basiert. Die Projektionen zeigen in Echtzeit erzeugte digitale Outfits, die vom Benutzer über das Kamerasystem gesteuert werden können. Basierend auf der Biometrie des Benutzers erzeugt eine Matrix von Algorithmen ein einzigartiges, nicht wiederholbares Erscheinungsbild.
Durch die eigene Interaktion mit dem Kamerasystem schlüpft der Benutzer in diverse digitale Körper und Outfits, die von den normativen Standards in unterschiedlicher Weise abweichen.
Die Vielfalt des menschlichen Körpers, aber auch geschlechtsspezifische Zuschreibungen von Farben oder Formen können spielerisch erlebt und damit für den Benutzer und seinen Betrachter neu verhandelt werden.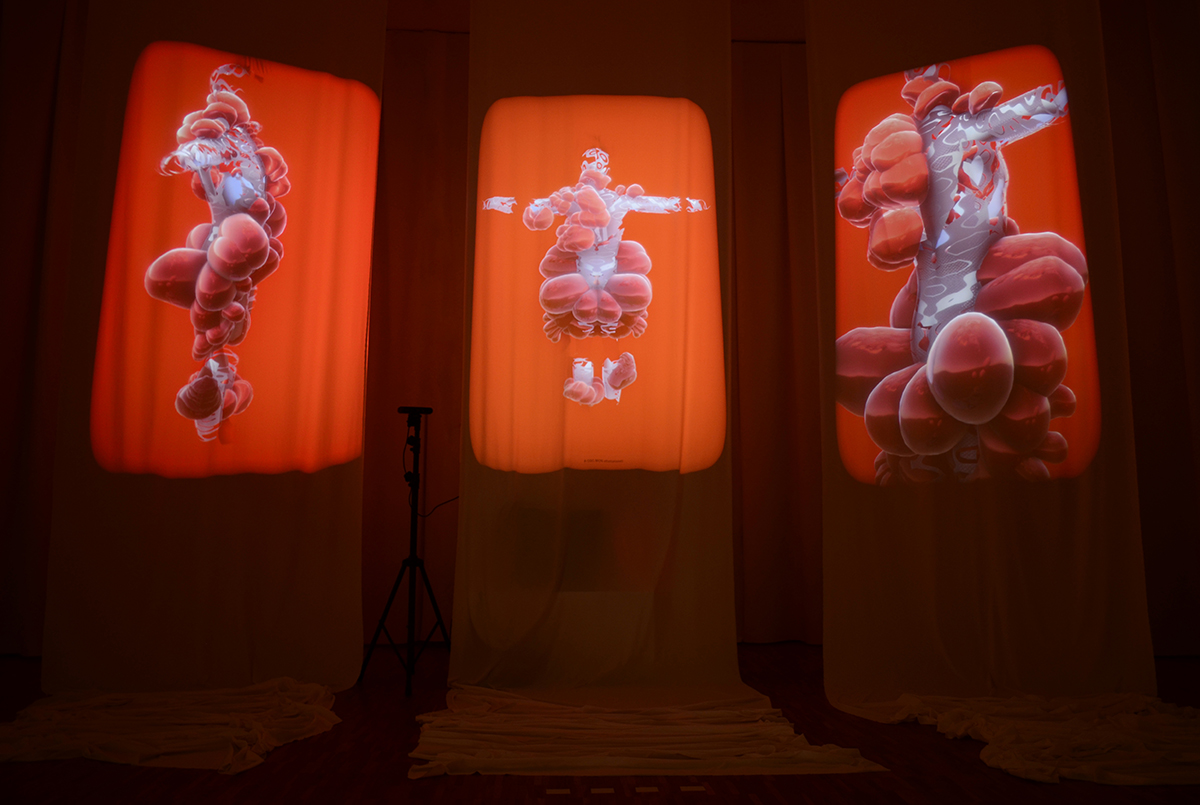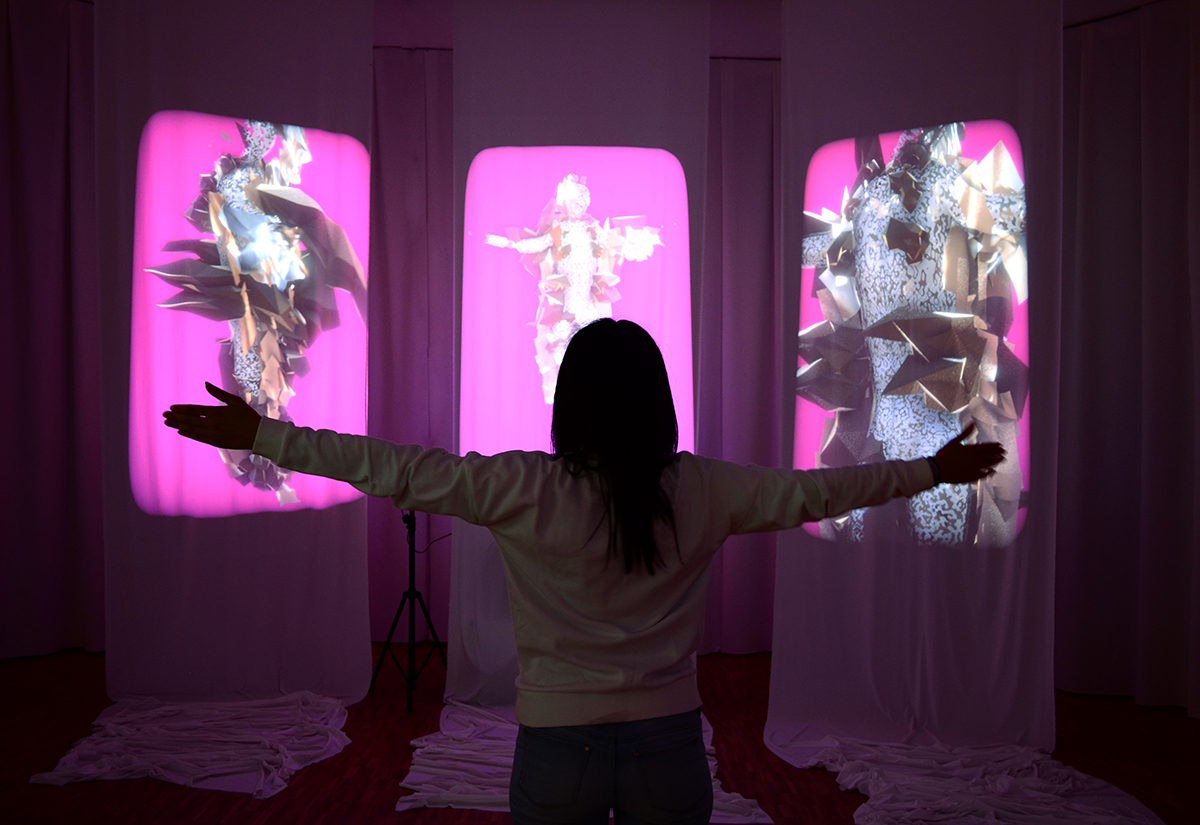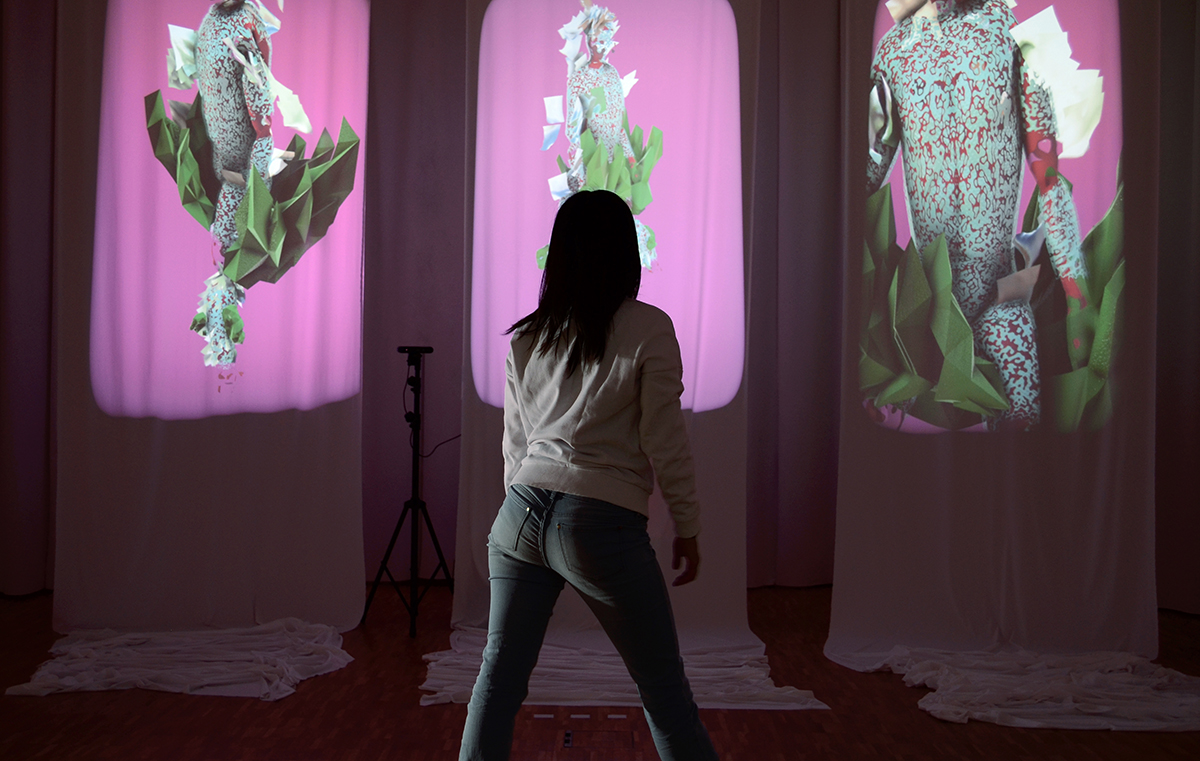 ---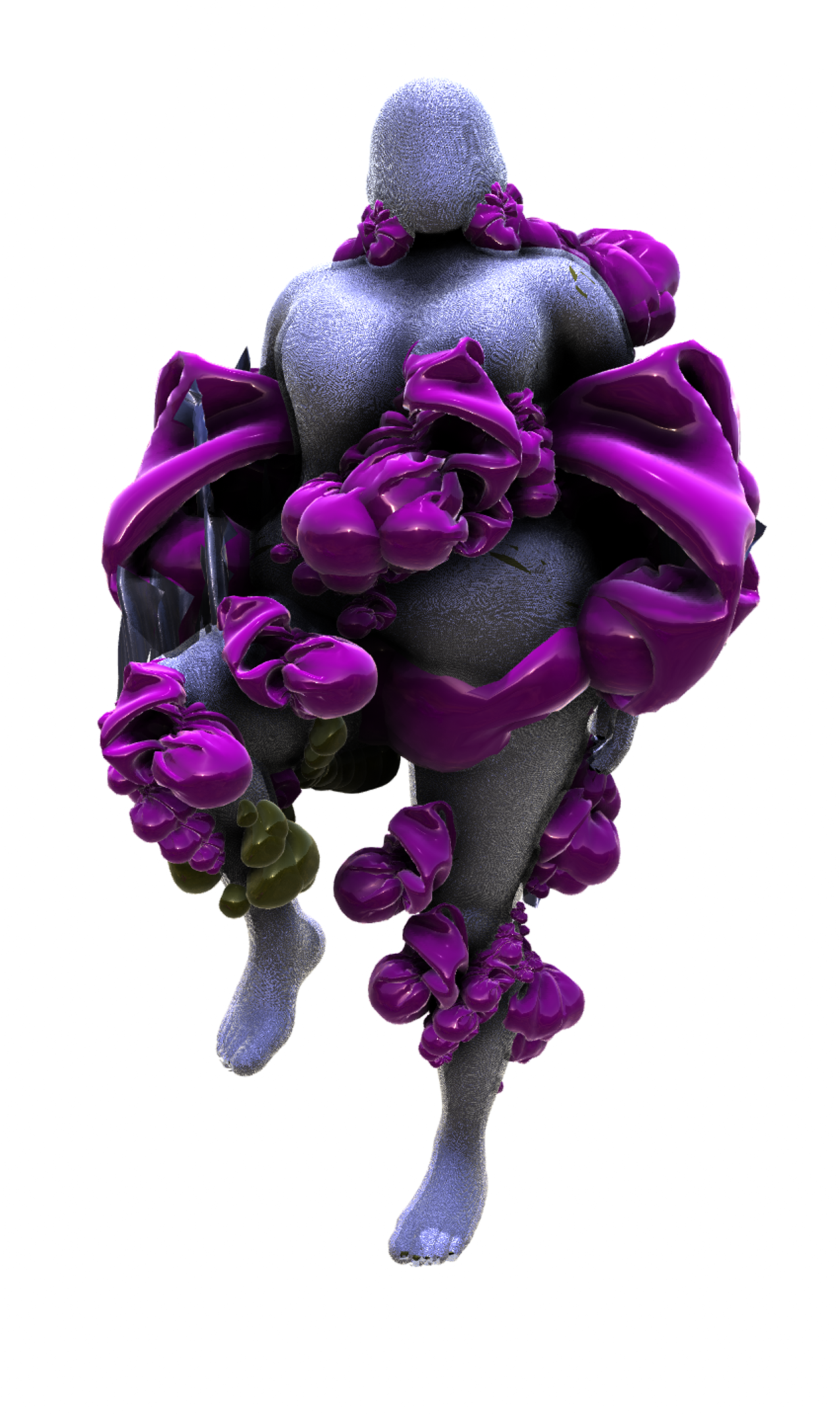 ---
SCIN Documentation

---
Generating an outfit for a digital avatar is a complex algorithmic network. The following images illustrate some key elements needed for each digital collection.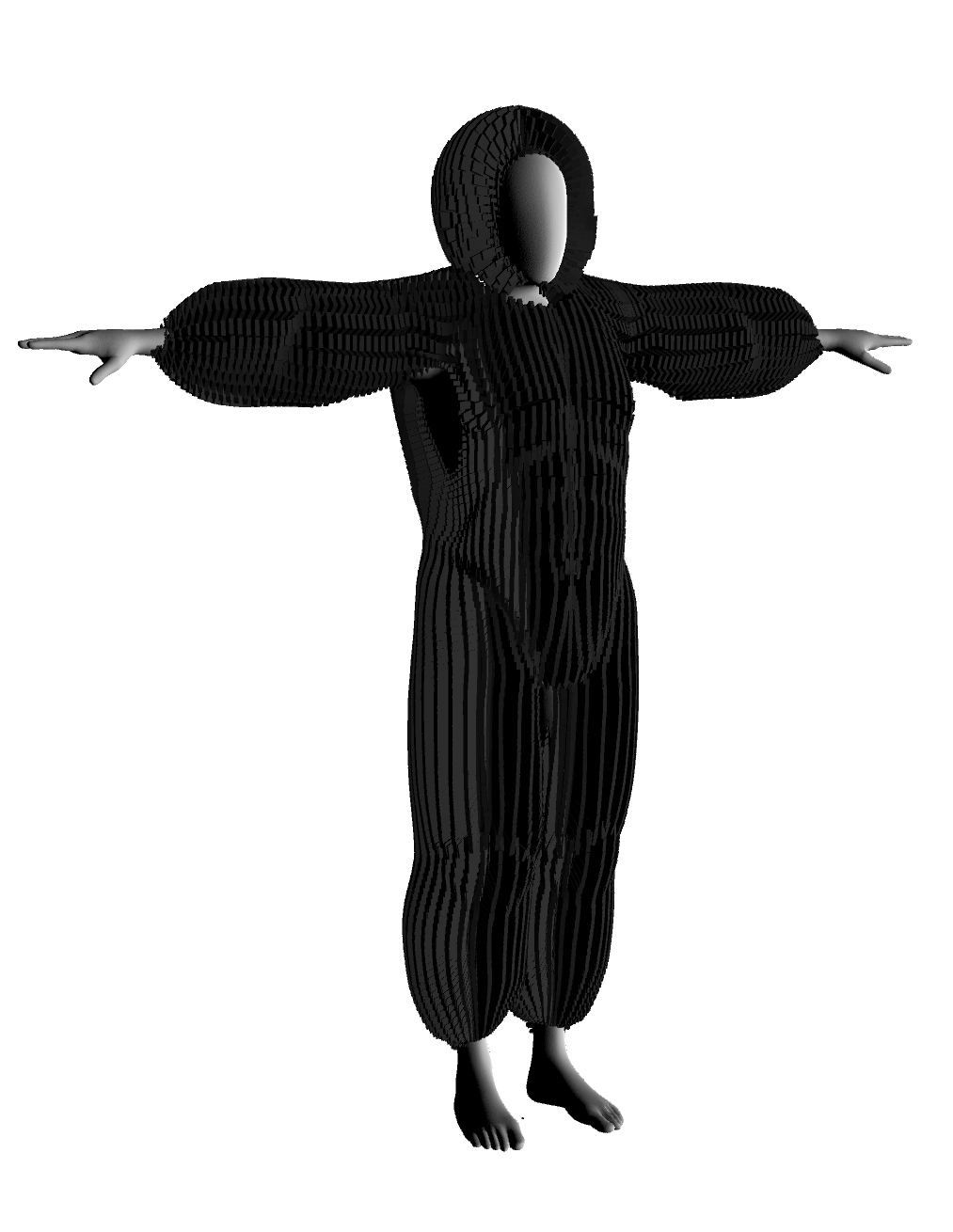 heatmap controlled body points to attach elements on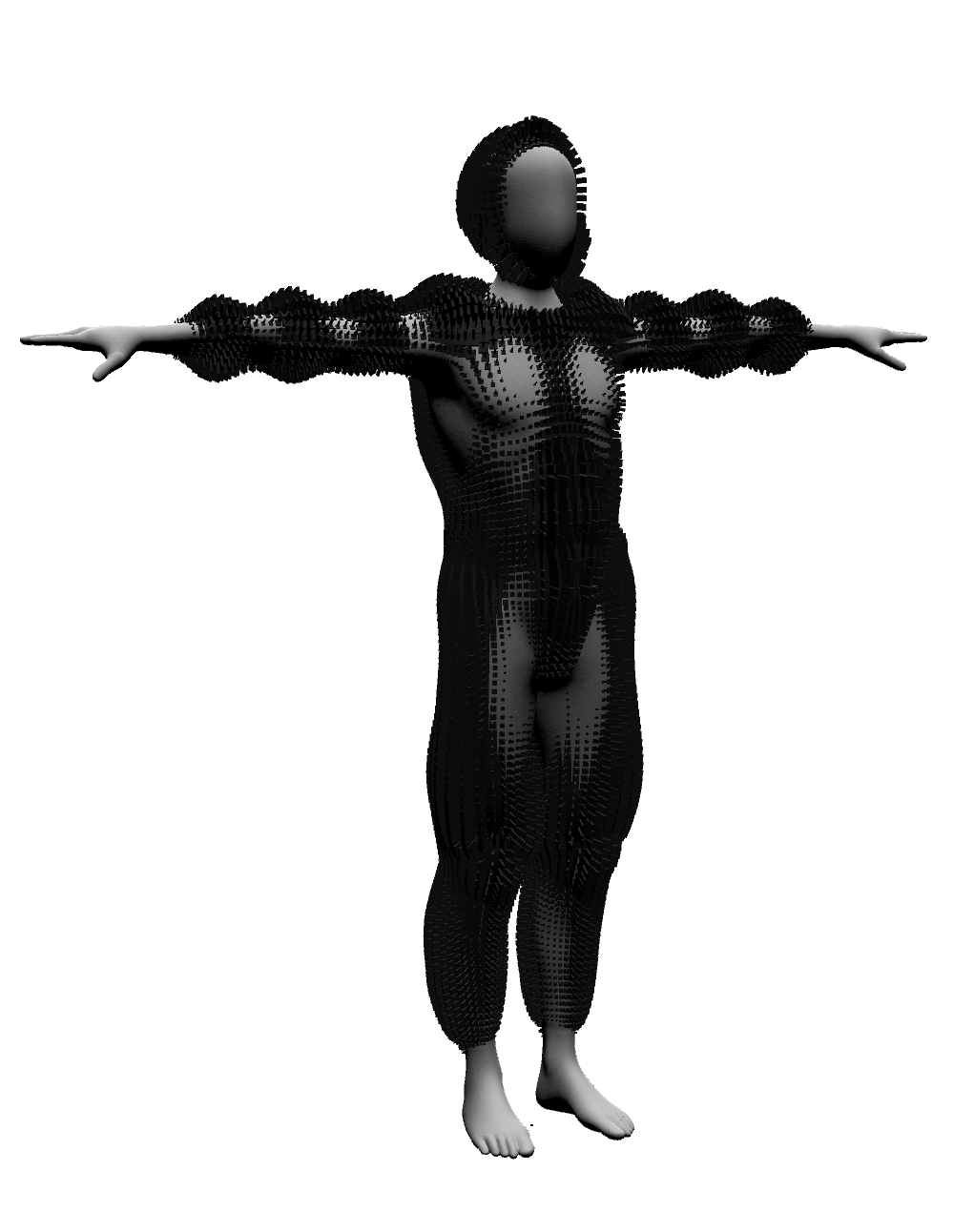 oscillating spacial bodymap along vertex positions controls the scale of each node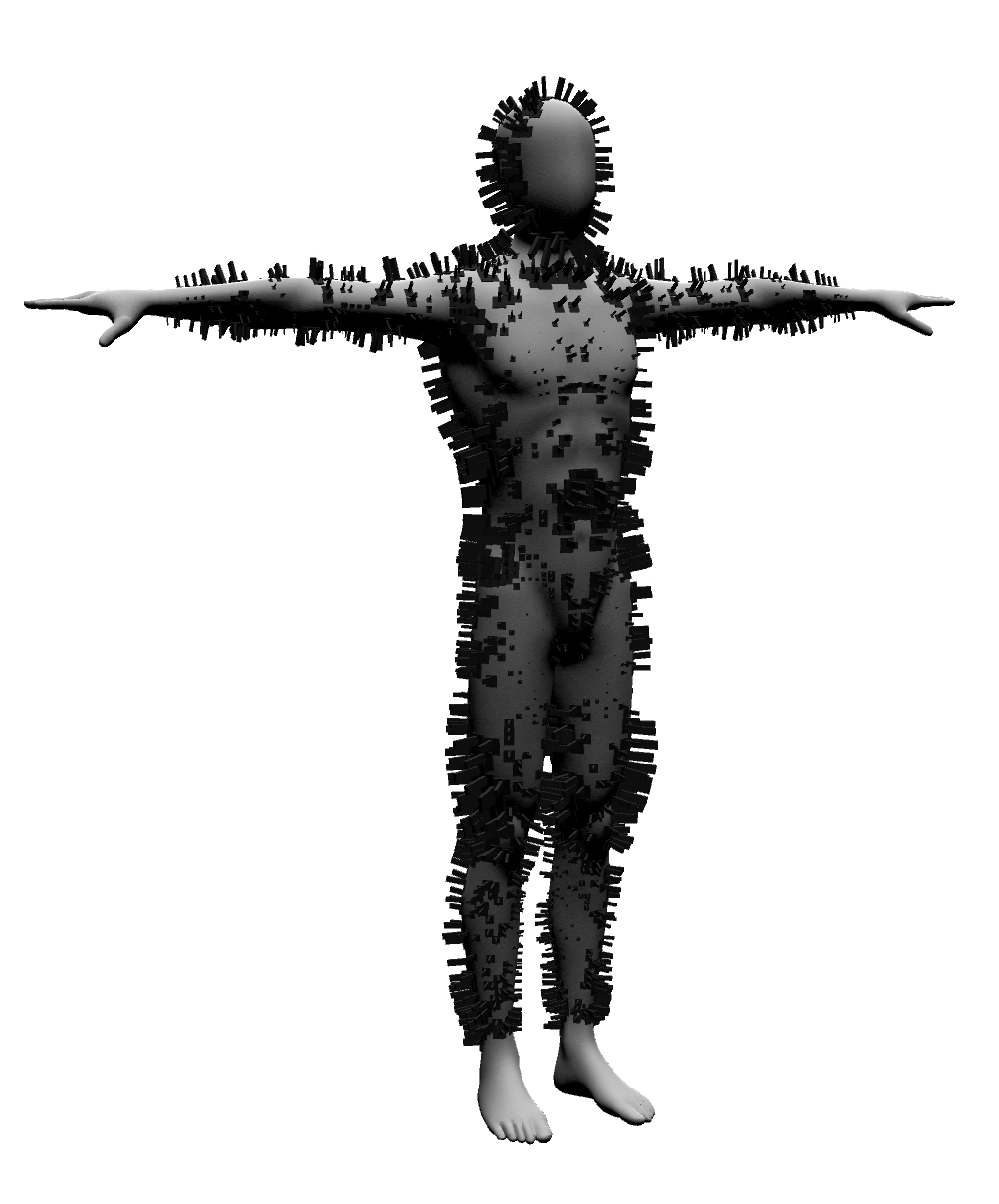 random symmetric distribution of nodes on the body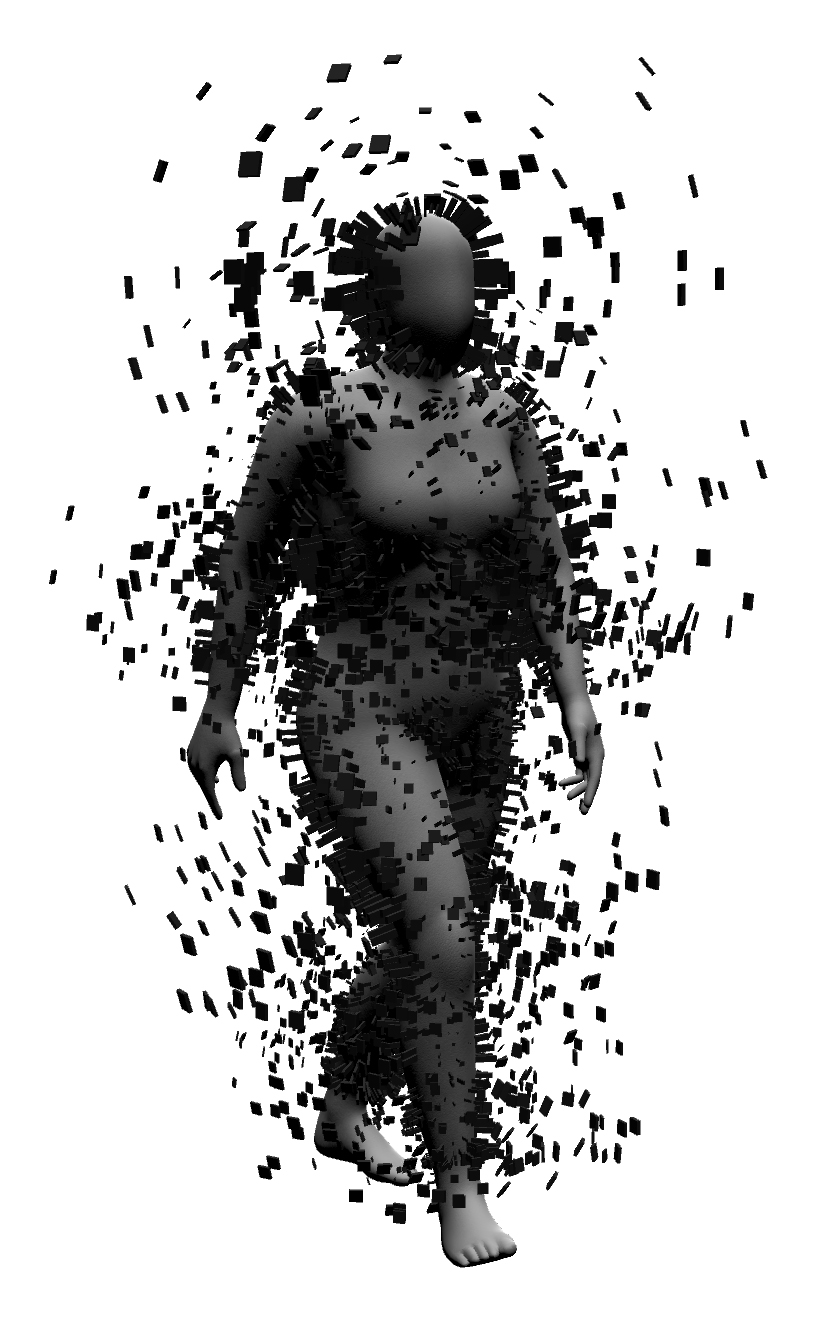 random symmetric distribution with random offset along normal forward direction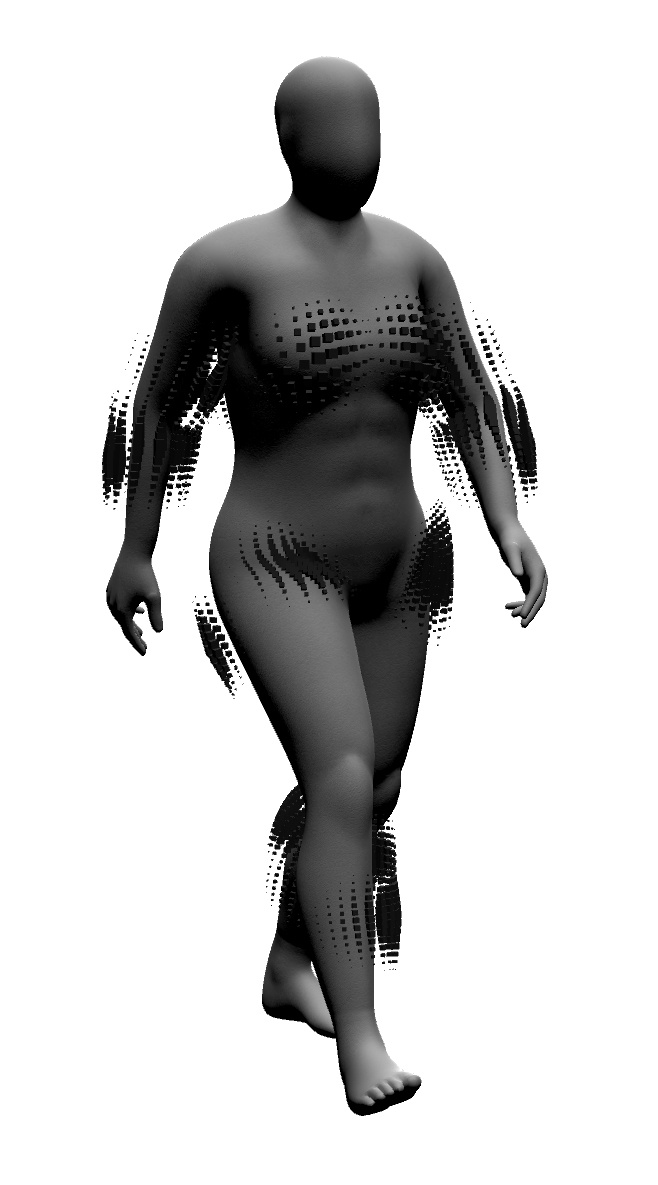 spherical symmetric area distribution – node scale controlled by distance to pivot point